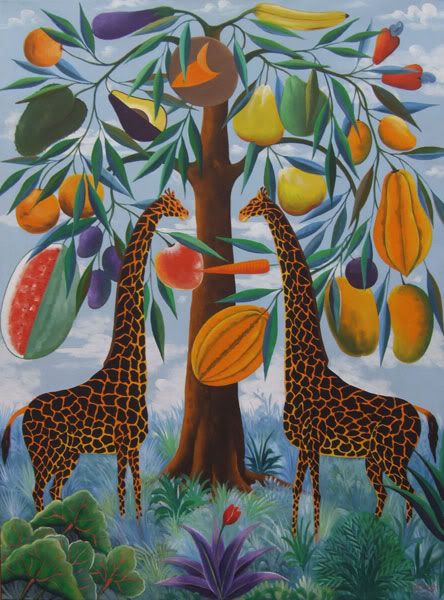 In the wake of the tragic news of the Haitian Earthquake, it's hard to find any hopeful stories about Haiti. It's the poorest country in the Western Hemisphere, but as an article by Nicholas Kristof pointed out yesterday, the problem with Haiti is not its people, but corruption, a crippling debt load and a disastrous ecological situation (among other things). The promise of what Haiti could become is found in its art, which is colourful and lively. Haiti has a rich art history, but is best known its vibrant voudou flags. Unfortunately, because of the difficult situation in Haiti, the art is not widely known.

The image above is by Fernand Pierre. Pierre died in 2002, but his art remains popular with collectors.

Born in Carrefour near Port-au-Prince on July 1, 1919, Pierre was a wood carver (carving small decorative animals) and engraver, before turning to painting at the Centre d' Art in 1948. In 1951 he completed a mural - "La Visitation" - at the Cathedrale Ste. Trinite de Port-au-Prince. In the early 1970's he left Haiti to join his family abroad, and did not return until 20 years later. His works often feature the old-style Gingerbread houses one can still see in Haiti today, as well as jungles and imaginary flowering trees laden with fruits. Pierre's work has been widely exhibited throughout the entire world.
The painting below is by an artist named Monestime Astrel - I just love it. Unfortunately, I couldn't find any biographical information about the artist. If anyone has any additional information about him, please leave a comment!
Image and artist bio courtesy the Gallery of West Indian Art. For more information,
visit their website
.