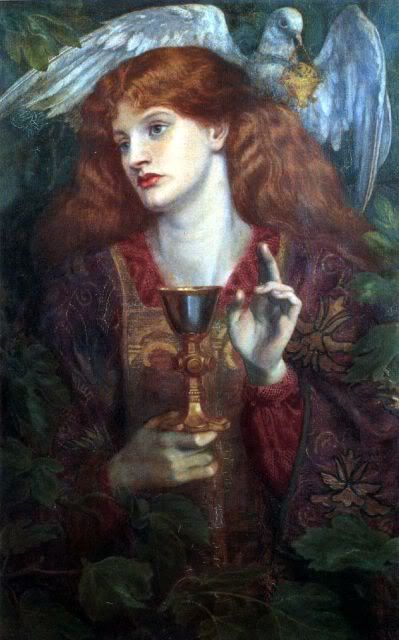 Dante Gabriel Rossetti painted
Damsel of the Sanct Grael
in 1874. Rossetti did a number of paintings related to the grail legend, and two works that depicted the damsel of the holy grail. The damsel character is referred to several times in Mallory's
Morte D'Arthur
, although, as was his wont, Rossetti took a number of artistic liberties in his portrayal of the damsel. Mallory describes her as "a damsel passing fair and young" and "dressed all in white." Well, Rossetti sort of skimmed over the white part...his damsel is a bit more worldly looking than Mallory might have envisioned. Her flowing hair and raised eyebrow impart some of the carnal flair that imbues Rossetti's later work. I love the grape vines that form an enticing frame around the damsel - clearly a nod to the chalice itself, which played a starring role in the Last Supper - but it's also hard not to see the Dionysian undertones. But that's what I love about Rossetti - his unabashed appreciation for both the sacred and profane.
This was Rossetti's second time painting
The Damsel of the Sanct Grael.
His first interpretation of the damsel was painted nearly 20 years before, and features a less-lusty and more medieval-looking maiden (modeled, I believe, on Lizzie Siddal). The early version is held by the Tate Gallery in London and can be seen
here
. Both images use similar symbolism (the dove and hand positions are the same), but the moods of the paintings are completely different.
Rosseti used Alexa Wilding as his model for the second damsel. Wilding posed for a number of his other works, including
Venus Verticordia
and
Veronica Veronese.
This painting is currently in the private collection of Lord Andrew Lloyd-Weber (lucky fellow).
Image courtesy Wikimedia