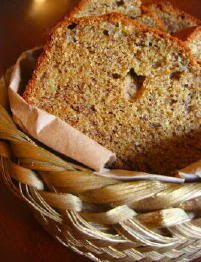 One of my favourite creations-I'm quite proud of it!

I've always felt that healthy food should be delicious. This banana bread is more flavourful than the original and far more nutritious. You can use all wheat if you would prefer, but as whole wheat absorbs a great deal of liquid when it cooks, your bread will be somewhat more dry (I would suggest adding another banana if you use all whole wheat).

Preheat oven to 350 degrees.

Sift together:
1 3/4 cup flour (for additional texture, use a combination of whole wheat and unbleached)
2 1/4 teaspoons baking powder
1/2 teaspoon salt

Add in:
1/3 cup olive oil (use extra virgin if you like the flavour)
2/3 cup pure maple syrup
dash of lemon juice
1 beaten egg
1 1/4 cups ripe banana pulp (2-3 ripe bananas)


Bake in a greased bread pan for 1 hour or till done.

By using olive oil in place of butter and maple syrup rather than sugar, you get an incredibly moist, delicious bread.