Welcome to the October 1, 2008 edition of art history carnival.
art history
Jason
presents
1599: Beatrice Cenci and her family, for parricide
posted at
Executed Today
, saying, "The reciprocal social construction between a family tragedy, a Romantic legend, and a (misattributed) painting."
Stephen's blog, A World Away, examines illustrated books. I really enjoyed a
recent post he did on Lynd Ward's 1929 Graphic Novel, God's Man
. I really enjoyed looking at the illustrations. They're quite striking and very reminiscent of the advertising art from the period.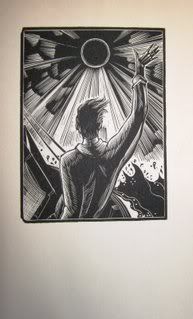 As you may or may not have noticed, my new job is certainly keeping me on my toes! I've been neglecting my little blogging paradise quite badly (for those of you who've asked, I've been working as a Legal Assistant--an interesting job, but a very fast-paced one). Nevertheless, while I've been neglecting my own blog, there have been lots of others who've been much more faithful than I! One of these is Sheramy, from Van Gogh's Chair. Sheramy, who is a Van Gogh scholar (I guess that doesn't exactly come as a surprise, now does it? She did a much better job of naming her blog than I did! Keywords, keywords), has been busy blogging away over the last few weeks. I particularly enjoyed her recent post on
Van Gogh's "Other" Starry Night, "The Starry Night Over the Rhone."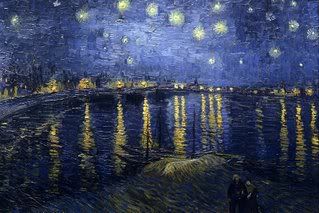 Isn't it lovely?
Bob Aho
created a lovely post that examines the
Cathedral of Modena
posted at
Passing Gaz
, it's a great article filled with photographs of the Cathedral and its fascinating relief sculptures. A must see/read!
That concludes this edition. Submit your blog article to the next edition of
art history carnival
using our carnival submission form.
Past posts and future hosts can be found on our blog carnival index page.
Technorati tags:

art history carnival, blog carnival.