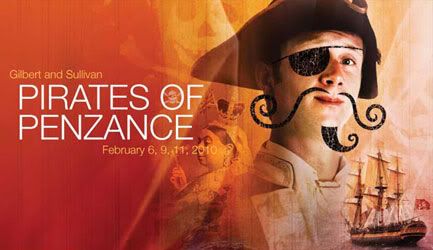 Last night my husband and I had the chance to see Edmonton Opera's presentation of Gilbert and Sullivan's Pirates of Penzance. We had such a fabulous time! It was the first opera of the season that we've been able to attend. We always get season tickets, but we had to give our tickets to Rigoletto to some friends, since the performance was one day after our daughter was born!

This time we were able to make it, thanks to my mom, who stayed home with the baby and entertained her by singing snippets from the production. I discovered this morning that my three month old daughter adores "Modern Major General" -- probably because she's never heard anyone speak that fast before!

I am so glad that the Edmonton Opera chose to stage such a thoroughly entertaining production. I've been a fan of Pirates for years, ever since I first saw the 1983 film version starring Kevin Kline in the 1990s. My sister and I adored the movie and watched it time and again on video. But certain numbers lost their lustre in the film version. Of course, songs like "With Catlike Tread" are impossible not to love, whatever their format, but others, like "Hush, hush, not a word!" simply fell a bit flat on the silver screen. Watching Pirates live was a revelation.

First of all, the cast was fabulous. Curt Olds stole the show as Major General Stanley - his sense of comic timing was impeccable and made the production. I was also impressed with Lawrence Wiliford as Frederic and Nikki Einfeld as Mabel.

Gilbert and Sullivan lend themselves particularly well to revival, and their appeal to modern audiences is strong, with humor that easily crosses age and cultural barriers. My husband, who had never seen a Gilbert and Sullivan production before, absolutely loved Pirates. I am so happy to see the Edmonton Opera choosing to showcase this Operetta, and I hope it means there will be many more Gilbert and Sullivan productions in the opera's future!