This spring's fashions are inspired by the kind of "romantic freshness" that was prominently displayed in last year's period drama, Atonement (starring Keira Knightly and James McAvoy).

The Spring runways almost always display the year's most feminine fashions, but this year they seem to have stepped it up a notch, with designs that borrow heavilly from the heady romanticism of the Pre-Raphaelites. And I'm not the only one who thinks so!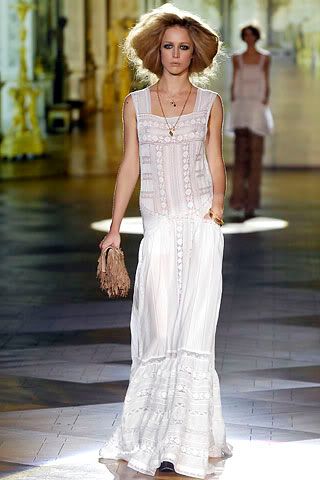 Horacio Silva just wrote a lovely piece for New York Times TMagazine on Jane Morris' contribution to this season's fashions, called The Innocence Project. Be sure and check it out! His discussion of the Pre-Raphaelite's influence on fashion is very interesting, although he does make a factual error (Jane Morris was not a fan of floral prints! Although she enjoyed using them for decorating, she preferred solids, which is amply evident in all of the photographs ever taken of her). The slide show of spring fashions accompanying the article really demonstrates the "turn to the romantic" that designers seem to be taking. Even Roberto Cavalli, who is best known for his plunging necklines and penchant for animal prints has shown a surprising romantic streak this season. This beautiful white lace gown is typical of the soft silhouette and feminine fabrics that Cavalli's utilizing this spring. Note also the Edwardian hairstyles! It looks like this will be a great season to find fearlessly feminine pieces in a variety of fabrics (especially soft floral prints).