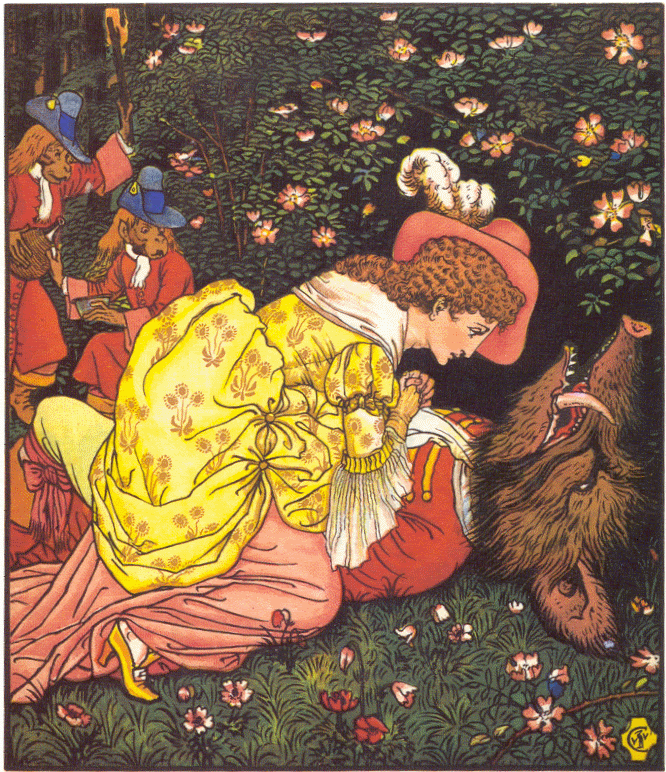 Generally speaking, I adore Walter Crane's illustrations. They are so imaginative and I know many people have grown up with his drawings of tales from classic children's' literature. I have to say that when it comes to his drawings of Beauty and the Beast, I think I just might have to say I prefer Disney.

Something about the boar's head on the Beast is just a little too disturbing. I suppose it reinforces the idea that the beauty falls in love with the beast despite his ugliness. Now that I'm a little older, I have to say I find the story exceptionally unfair. For one thing, what guy would fall in love with a girl who had the head of an animal? And what story would commend him for it? Let's face it, in fairy tales, women are put through very different tests than men, constantly proving their "worth" by what they'll put up with.

One of my all time favourite fairy tales is the Princess and the Pea--now there's a girl I can identify with! Except now that I think about it, even she is forced to spend a miserable night tossing and turning on a lumpy mattress. At least she doesn't have to endure being starved, beaten, bewitched, or married against her will, like many of the other fairy tale heroines.

Don't get me wrong--I adore unvarnished fairy tales. But it always amuses me when I really start thinking about the deeper messages in the stories.