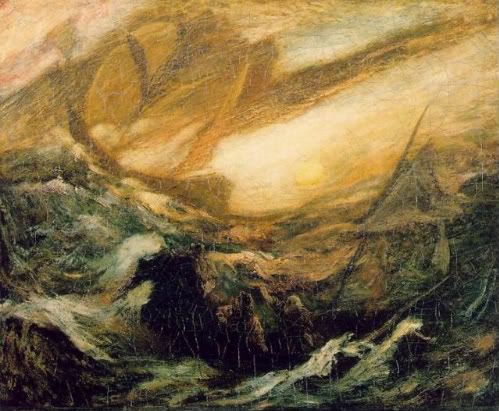 Last week the Edmonton Opera's season began with an ambitious production of Richard Wagner's The Flying Dutchman. I wasn't quite sure what to expect from our small opera company, but I was impressed! Overall I think it was a great success, although there were some inevitable hiccups.

First of all, the music was gorgeous: my husband and I were both captivated from the moment the orchestra started playing. Once the the curtain went up, many of the cast members had a difficult time being heard above the orchestra, which I suppose is an occupational hazard of performing Wagner. Thankfully, the Dutchman (Jason Howard)and Senta(Susan Marie Pierson)had voices that were capable of standing up to the music. I personally felt that Senta stole the show. From the moment she began singing(Act 2), she really demonstrated what a more powerful voice could do with the music. The chorus numbers were another highlight, as the larger number of voices meant that the singers weren't going to be drowned out by the music.

The Flying Dutchman tells the story of a sea Captain who is condemned to wander the seas for all eternity. Once every seven years he is permitted to leave the ship in order to search for a woman who can be faithful to him until death. If he accomplishes this task, he will be freed from the curse. Unfortunately, although he has been trying for hundreds of years to find such a woman, all of them have proved unfaithful (quite a sad commentary on womankind!).

One thing that constantly impresses me about the Edmonton Opera is the great set designs that they consistently manage to pull off. This time they staged the entire production in a Shaker-style meeting hall on stilts that appeared to be tilted dramatically. I kept wondering how the cast members managed to maneuver around the stage without falling down! It really was quite extraordinary.

Ultimately, I was very happy to see an opera like this being staged in Edmonton. Doing Wagner is always difficult, but I think it was definitely worth it. Hopefully we'll get the chance to see more Wagner in Edmonton!

"The Flying Dutchman" by Albert Pinkham Ryder courtesy Wikimedia commons.