Nostalgia always brings with it a certain amount of selective memory. We idealise the past because we remember the best and forget the rest. But is this really such a bad thing? The 19th century medieval popularised by William Morris and the Pre-Raphaelites was based in the firm belief that the people of the Middle Ages had closer contact with organic elements and were thus more aware of their connection with nature and with each other. William Morris' novel News from Nowhere--(which I highly recommend, by the way)--presents a Utopian vision of the future that clearly is meant to be a recreation of an idealised medieval past.

The Nostalgic Middle Ages:



Of course, medieval revival is fairly easy to criticise from a historical viewpoint. Morris, like his Pre-Raphaelite friends, had a habit of focusing on the positive, and carefully avoiding things like war, feudalism, disease and famine that were such problems throughout the Middle Ages (plus, many of their notions of the Middle Ages were completely inaccurate).

Morris believed capitalism was to blame for modernity's rift with nature, and that our goods-focused society created artificial needs that enslaved mankind in an endless cycle of consumption and debt (no doubt today's current market crisis would have reinforced this belief!). And while the Middle Ages were not perfect, that doesn't mean that we can't embrace what they seem to have done right. Or, perhaps we might finally acknowledge the fact that our imagined concept of the Middle Ages is actually far superior to the way things actually were! I actually think fantasy makes a much better template for the future than any reality, past or present. This is probably because I'm a historian, so I know just how much of a failure most societies have been!

The real Middle Ages?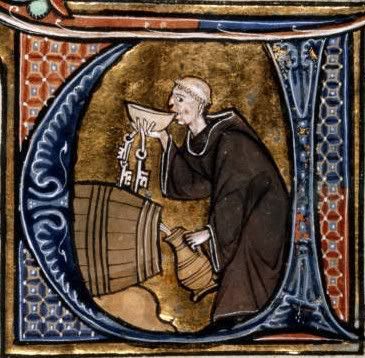 I'm curious to see whether the current economic upheaval will cause people to re-evaluate the Middle Ages and look to them for inspiration. I've noticed that some aspects of medieval culture, like the barter system, as the New York Times reports, are actually becoming much more widely adopted (it is expected that barter will account for $3 billion in trade in the US this year).

It will be interesting to see what develops!

Images courtesy Wikimedia. Top: Lamia (1905) by John William Waterhouse; Middle: A monk-cellarer tasting wine from a barrel whilst filling a jug. From Li Livres dou Santé by Aldobrandino of Siena - France, late 13th century.