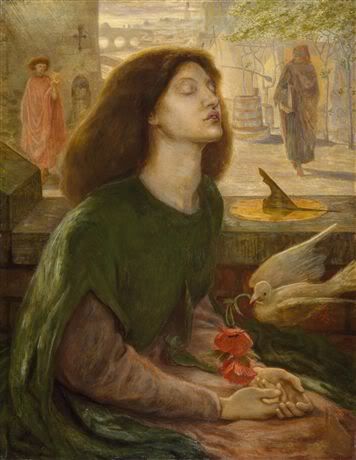 The Birmingham Museum of Art (which houses the largest public collection of Pre-Raphaelite Art) has just unveiled their new website, Preraphaelites.org, which promises to offer the most intimate experience of the Pre-Raphaelites work that can be achieved outside of visiting the museum.

The website uses Microsoft's Silverlight technology, which allows the viewer to expand the artworks as much as possible while maintaining the integrity of the image. It is a spectacular tool, and I can't wait to see more museums adopt this method of cataloguing the works in their collections.

I used Silverlight to take a closer look at Dante Gabriel Rossetti's Beata Beatrix, and I have to admit it was an extraordinary experience. The detail is incredible! I have only had the opportunity to view a few Pre-Raphaelite artworks in person, and this technology does allow you to get much closer to the work than they would ever let you get in person. (Even more than in France, where they are extremely permissive of museum guests getting quite close to the paintings!).

In addition to allowing you to see the finest details of many of the works in their collection, the website also points you to related works. In the case of Beata Beatrix, this leads you to a number of sketches of the work. They also seem to offer more detailsa about the works than other museum websites do, and if you register for the website, you can even discuss the paintings with other art fans online.

I originally heard about this project thanks to an email from the Communications Officer for Environment & Culture at the Birmingham City Council. I am so glad they emailed me and that the Council is getting the word out about this great resource! I can see why the Birmingham City Council is quite proud of this site. It really offers a unique opportunity for art lovers across the globe to see these works "up close and personal" and I think the site will generate a lot of tourism once people see what the museum has to offer.

Of course, nothing can replace the experience of seeing these works in person, but this new website does get awfully close. And for those of you planning to visit Birmingham Museum and Art Gallery, I strongly urge you to visit this website first. If there are any artworks you are hoping to see in person, you can actually request a viewing through the website! This is an amazing service. I'm used to having to write to museums, but this tool makes the entire process so much easier (plus it makes it seem like they actually want to let you see the works!). This is especially important to do if there are any lesser-known sketches that you would like to see in person, as these might be in storage at the time of your visit. Again, I can't possible stress enough what a great resource this is!

Kudos to the Birmingham Museum and Art Gallery for these great tools. It's so great to see museums putting their catalogue online and taking advantage of new technology that compliments, rather than detracts from, the artwork. I am a firm believer that giving public access to artwork generates a tremendous amount of interest. I hope this great site makes a new generation fall in love with the work of the Pre-Raphaelites.

Image courtesy Birmingham Museum of Art.