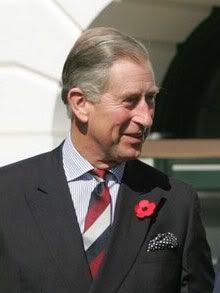 His Royal Highness, Prince Charles, who has been patron of the Society for the Protection of Ancient Buildings (SPAB) since the death of the Queen Mother, has withdrawn his support after a difference of opinion with the members of the society's board. The Prince failed to renew his patronage of the society when it came up for renewal last year.

The Prince apparently raised the ire of the society by contradicting their stated views on restoration in a forward he wrote for a book on architecture. In the forward, the Prince argued that historical buildings should always be restored in their original style.

I can't help but feel that William Morris, who founded the society back in 1877, would have agreed wholeheartedly with the Prince on this particular matter. Morris was very much against reproduction of historical buildings, but was a strong supporter of historical preservation and protection. One only has to look at the "new designs" that Morris appreciated in order to realise that he was not quite as supportive of all forms of architectural innovation as the SPAB would have us believe. Morris found most modern design downright ugly, and I'm sure that he and the Prince would have agreed on that point.

While the SPAB's mandate might warn against "feeble and lifeless forgeries," it hardly seems fair that this should remain the chief concern for historical preservationists in this day and age, when we have much better access to appropriate materials for restoration. The danger of damaging the integrity of the historical architecture is far greater. However, it appears that the board of the society disagrees. They apparently requested that the Prince amend the forward to the book to more closely align with their own views and he refused.

It's surprising that the Society for the Protection of Ancient Buildings would actually refuse royal patronage from someone who happens to share views so similar to those of the society's founder. William Morris always felt it was disingenuous to try to imitate historical architecture, but he remained strongly convinced about the importance of preserving buildings as carefully as possible. I haven't seen the Prince's forward (and it sounds like none of us ever will), but it would be interesting to know what the fuss was all about. Besides, it seems that if Morris had seen some of the more atrocious examples of modern restoration, he might have agreed with the Prince even more! I guess I'm a bit of a Luddite, but I would prefer to err more on the side of cautious restoration than of reconstruction using new styles.

The SPAB has yet to name a new patron.

For more info on this story, see the Independent

The press release from the SPAB can be found on the Society's website

Image courtesy of Wikimedia commons.