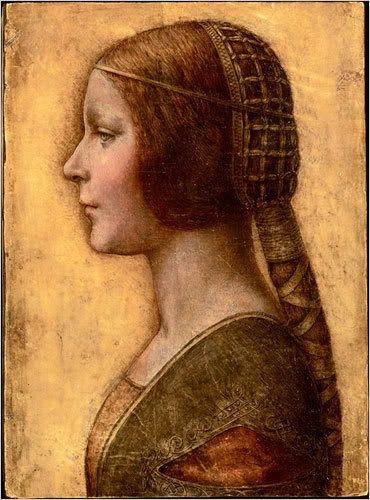 Last year I did a post about a debate raging over whether or not the painting The Marriage Portrait of a Young Woman (pictured above) was an original Leonardo da Vinci.

One year later and the controversy is far from over. The battle is still raging among art experts over whether or not the painting is actually by da Vinci.

Most recently, a lab in Paris has discovered a fingerprint in the upper left hand corner that appears to belong to Leonardo da Vinci(it kind of surprises me that they are not able to tell definitively if the fingerprint matches - especially with all that pricey forensic equipment). Originally, Christie's auction house had valued the painting at under $20,000.00, but of course that was before the painting had been subjected to more detailed investigation.

Further investigation into the painting are ongoing, but this must be great news for Canadian art collector Peter Silverman. Silverman purchased the work for around $21,850 in 2007. If the painting does turn out to be a da Vinci, it will most likely be worth tens of millions of dollars. Not a bad investment!

The BBC has a video of the latest news about the painting, which can be viewed on the BBC News website.