I've been keeping busy over the last couple of days with Niall Ferguson's entertaining history of finance, The Ascent of Money. I've been meaning to read it for some time, and I've finally gotten around to it! (It's been easier to make time for reading, now that the World Cup is drawing to a close). Anyway, I'm having a grand old time - finance has always been one of my favourite subjects. And when art and finance intersect, all the better!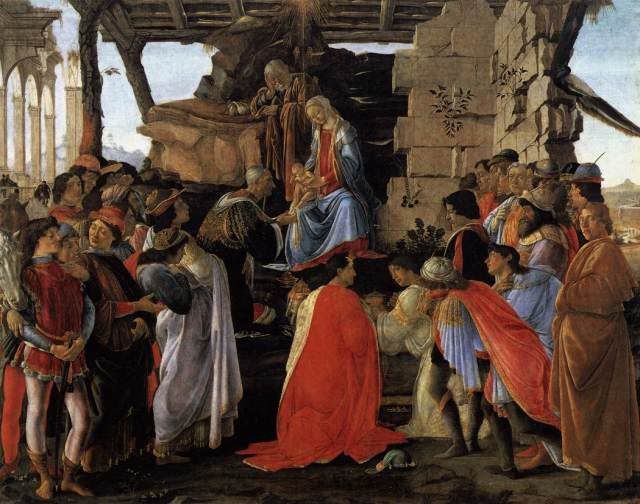 The first chapter of Ferguson's book is largely devoted to the financial machinations of the Medici. The Italian Renaissance was a time when art blossomed, thanks in a large part to the generous funding of wealthy patrons like the Medici. The painting above, entitled "Adoration of the Magi" was commissioned by the Banker's Guild as a tribute to the Medici family. Ferguson notes that all three of the wise men are actually modeled on members of the Medici family. Cosimo the Elder is washing the feet of baby Jesus, while Piero (center, in red) and Giovanni (white) complete the trinity. Other family members featured in the picture are Lorenzo and Giuliano. Philosopher Pico della Mirandola (who was also patronized by Lorenzo de' Medici) is also pictured in the left foreground, wearing a dark robe and red hat. And if you ever wondered what the painter looked like, the young blond man to the far right is actually Botticelli. The painting really is a "who's who" of the Italian Renaissance.
The Medici were certainly trumpeting their success with this painting, though I should note that Cosimo, Piero and Giovanni (the three kings in the picture), were all deceased at the time the work was produced. That did not stop Lorenzo the Magnificent from getting in on it, though. Ferguson says that Lorenzo appears in the painting in a pale blue robe, though I've noticed others online that seem to think he's posing with the sword (which seems unlikely to me). I saw one posting that flags the man in black as Lorenzo, which makes the most sense to me. He's centrally located within the painting, but not too obvious...if I was a wealthy patron, that's where I'd put myself! Anyway, it certainly looks the most like Lorenzo...does anyone know for sure? I have been trying to find a more authoritative source, but so far, no luck.
So I'm doing a poll (unless any readers can offer a definitive ID). Where's Lorenzo? (you can click on the picture above to take a larger look)
Here's a head shot of Lorenzo, for comparison:
Let the debate begin!