"There is grandeur in this view of life, with its several powers, having been originally breathed into a few forms or into one; and that, whilst this planet has gone cycling on according to the fixed law of gravity, from so simple a beginning endless forms most beautiful and most wonderful have been, and are being, evolved." - Charles Darwin, The Origin of the Species
I ran across the website for
Endless Forms: Charles Darwin, Natural Science and the Arts
while doing a search to see what connections there might have been between Charles Darwin and the Pre-Raphaelites. I saw
Creation,
a very interesting film about Darwin a few weeks ago. The film starred Paul Bettany and I really enjoyed it. Very nicely done, in my opinion, though I know that many may have been disappointed by it. The film focused more on Darwin's relationship with his daughter than it did on science, but the movie captured the Victorian era so well, and I loved the Gothic way the story was told, so I would recommend it. At any rate, after seeing the film it occurred to me that Darwin was a contemporary of the Pre-Raphaelites, and I wondered what they had thought of them.
I always knew there was some disagreement between the Pre-Raphaelites and Darwin. Ruskin (who else?), was the most vocal critic I could find. He disliked Darwin because he felt his science robbed the world of wonder, mystery and beauty. He wrote frequently on the topic of natural selection (or rather, Ruskin's own highly amusing version of it). In response to Darwin's suggestion that "the final end of the whole flower....is the production of the seed" Ruskin argued that "the flower exists for its own sake...not for the fruit's sake." Oh well. There was no pleasing Ruskin - just ask Effie...

But what of the other Pre-Raphaelites?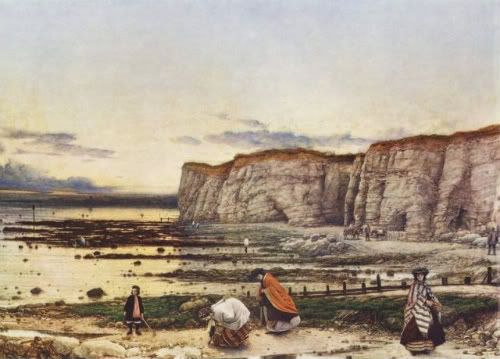 One of the more direct artistic Pre-Raphaelite responses to Darwin's work that I could find was this painting by William Dyce, which was originally part of the "Endless Forms" exhibition. The picture features the artist's family gathering fossils in Pegwell Bay, near Kent. The painting, which is held today by the Tate Gallery, uses the tail of Donati's comet to cast an ominous and uncertain mood over the scene (the comet's tail is supposed to be "barely visible" in the center of the painting - I think it's one of the white spots near the top-middle area of the picture, but I can't be sure). Dyce was a devout Anglican, so the inclusion of the comet - which, conveniently, was not due to reappear for 2,000 years - is rich with symbolism.


image courtesy Wikimedia