The second issue of the art history carnival has been a long time coming, but it's finally here! There's something for everyone in this issue, as the posts featured in this edition cover a wide spectrum of artistic periods and mediums (one writer even focuses on art in pre-history!). Here you will find posts on everything from paintings to film to architecture. Everyone familiar with this blog knows I'm quite a fan of the Arts and Crafts Movement and the Pre-Raphaelites, so you'll excuse me for pointing out that one of the greatest triumphs of the Arts and Crafts Movement was the way it opened up the definition of art and freed people to examine the creative spirit from a multitude of different angles.

You may recall that the Arts and Crafts movement was, in a large part, an effort to expand the definition of art to include more than just paintings and sculpture. William Morris and the Arts and Crafts Movement effectively destroyed the hierarchy of genres within art, and I think this carnival is in many ways a celebration of this. It is therefore quite appropriate that this collection of posts celebrates so many different facets of art and beauty.

Art History


Judith Weingarten has written a great piece on the surprise connections between Raphael's 1518 painting, La Fornarina, and a lively giraffe (right) drawn on a papyrus in the late first century BC -- the so-called Artemidorus Papyrus. It's a little mystery/art history lesson that will not disappoint, and I really think you'll all enjoy it!The Baker's Daughter and the Artemidorus Papyrus is posted at Zenobia: Empress of the East.

A. Lee, fine art painter examines the nature of Piet Mondrian's Abstract Art. For those of you who are not familiar with his work, Piet Mondrian was an influential Dutch Abstract painter of the first half of the 20th Century. Learn more about the soulful essence of his art by reading her delightful post at eArtFair .com - Fine Contemporary Art.

JULIET SMALL ERNST presents BIOGRAPHY AND MYTH posted at WE ARE INDEPENDENTLY WEALTHY. Her post examines the biography of Mary Meerson, partner of Cinematheque founder Henri Langlois, and her attitude towards the past.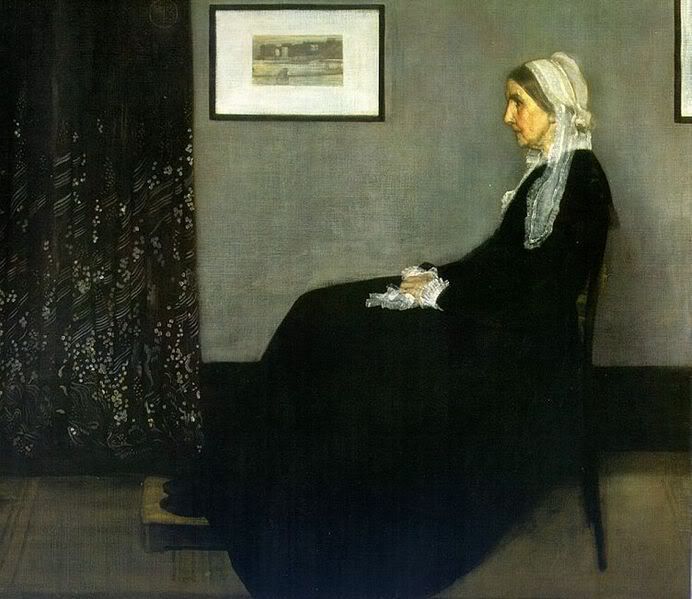 Nandita has written a review of Whistler's Mother posted at Lines in Books. It can be difficult to write about paintings that are as ubiquitous as this one, but I found Nandita's take quite interesting.

My intro to this carnival gives away the fact that my definition of art is rather fluid. In my view, poetry is just as much an art as painting, so when I received this submission about the death of proto-romantic poet Andre Chenier (back in 1794), I knew that I had to include it in the carnival. 1794: Andre Chenier, poet is a great blog post found at ExecutedToday.com. Be sure to scroll down the page when you get to the article--Jason has included a YouTube clip from the 19th century Andre Chenier opera that is simply fabulous.

Art News and Exhibits

Kerry of The Ten O'Clock Scholar has written a post entitled Art Links for Homeschoolers , which describes several art exhibits that are showing on the East Coast this summer.

Sarah has written a directory of NYC museum free/pay-what-you-wish days posted at SARAHSPY. This is really useful information! When we were in France this sort of thing was invaluable. It can get really expensive to pay at every museum, especially when you are on vacation and hitting multiple museums per day. Thanks, Sarah!

Philosophy of Art

Gail Kavanagh's attempts nothing less than an examination of the origins of the creative spirit in her blog Creative Fire. For this carnival I'm including one of her meditations on art in prehistory entitled Enter the Neolithic. Be sure to take a look at some of her other educational writings on "Creative Fire" as she traces the history and prehistory of art.

Reviews


AdmirableIndia.com presents Trip to Chikmagalur: Day 1: Chennakesava temple at Belur, Hoysaleswara temple at Halebid and Castle Rock Homestay, Chikmagalur posted at AdmirableIndia.com. There are some great pictures here of spectacular old Indian architecture! I'm not sure about the exact dating of these structures, so if anyone knows, leave a comment! **EDIT** The temple dates back to 12th century. The exact date of construction is believed to be 1117AD. (Thank you, admirableindia!.

Take a look at Bangalore to Mysore on Bike: Day 1: Part 1: Srirangapatna for some more great photos of Indian architecture.