I first discovered John Ruskin through a badly battered edition of Elements of Drawing that was my constant companion from the ages of 10-16. I don't even remember where I found it the first time (did my mom buy it used? I have no idea), but at any rate I dragged it with me every time I went to sketch something. I loved it because it made it seem like drawing was something accessible to anyone, and it had great pictures that didn't intimidate me. Plus, it was written so simply that even a child could understand it, in spite of Ruskin's warning on the first page of the preface:


In the first place, the book is not calculated for the use of children under the age of twelve or fourteen. I do not think it advisable to engage a child in any but the most voluntary practice of art. If it has talent for drawing, it will be continually scrawling on what paper it can get; and should be allowed to scrawl at its own free will, due praise being given for every appearance of care, or truth in its efforts.
I remember feeling quite self important for using the book long before I was "supposed to", although looking back, I was basically engaged in "continually scrawling," rather than any serious study. At any rate, I just adored the book, which I took great delight in dragging to the woods with me whenever I wanted to go investigate sketching opportunities.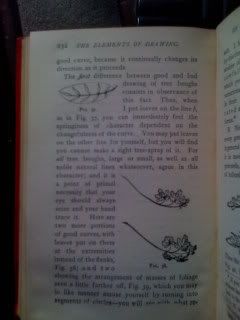 It wasn't until much later that I figured out that the John Ruskin who had written my handy little book was the same John Ruskin who had been one of the most famous art critics of the 19th century. I still remember reading about the Elements of Drawing--it was like a light bulb went on in my head. I ran to my bookcase, and sure enough, it was the same book! I was a little surprised--it seemed like such a simple little book.
151 years after it was published,
The Elements of Drawing
is still in print today, and it's no surprise. It's an amazing introduction to drawing and the world of art that is a perfect gift for anyone (plus, it has great pictures!). The entire book is constructed like a series of letters to an aspiring artist, and its conversational tone is a large part of its appeal. Plus, the reader is treated like an artist from the first page of a book--and is congratulated on tasks as simple as drawing a line. It's a classic book, and one I would recommend it to anyone, whether they draw or not!
The Ruskin watercolour shown above is
Rocks and Ferns in a Wood at Crossmount, Perthshire
, 1847.