Welcome to the September 1, 2008 edition of art history carnival.

art history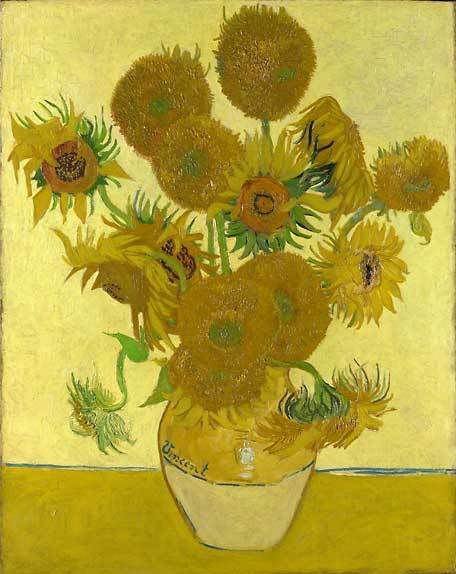 Van Gogh's Chair
is one of those blogs I simply love to read, because I always learn something there! The blog's author, Sheramy is an art historian who specializes in Van Gogh. This week she wrote a great post on one of
Van Gogh's most famous paintings, The Sunflower
.
Art Blog by Blog is another of my favourite sites. In one of his latest posts,
Unfinished Business
, Bob examines the art of Jacques Louis David, who is probably best known for his 1793 painting The Death of Marat. In the painting, "David elevates the objectionable Marat to the status of sainthood, generating the necessary propagandistic energy to fuel calls for revenge against the group with which Corday sympathized." Be sure to stop by Bob's blog, to read more!
I believe anyone who owns a truly beautiful book would not hesitate to categorize books as fine art. And if you aren't convinced, I would suggest a visit to Stephen's blog,
A World Away: The Illustrated Book
. Stephen has written an informative post on the
history of small printing presses
that is sure to win you over to the joys of beautifull books!.
Unfortunately, not all those who dream of creating beautiful work are able to see their dreams come to life. Sam Pospil examines the significance of frustrated artistic ambition in
"Hitler Fails Art Exam"
.
Here's a post that's a little on the wild side. Tattoostosee, a website devoted to tatoos, has written an
interesting article on the art history of tatoos
. Tatoos are not my thing, but I learned quite a bit from reading about it!
We've received another interesting submission from Admirable India showcasing some of India's historic architecture. This time, it's a post about
a watch tower that was built between 1520and 1569
and was supposed to illustrate the anticipated limits of the city of Bangalore. Apparently, due to the material the tower was constructed from, it's now attracting geogrphers as well as historians!
exhibits
The Stickley Museum is currently featuring an online exhibit of some of its beautiful handcrafted furniture. Visit
The Collection: The Living Room
to see full tour!
Sarah reports that
Jim Henson's work is currently on display at the Smithsonian
. This would be an excellent exhibit to take the kids to!
That concludes this edition. Please submit your blog article to the next edition of
the art history carnival
using our
carnival submission form.
Technorati tags:

art history carnival, blog carnival.