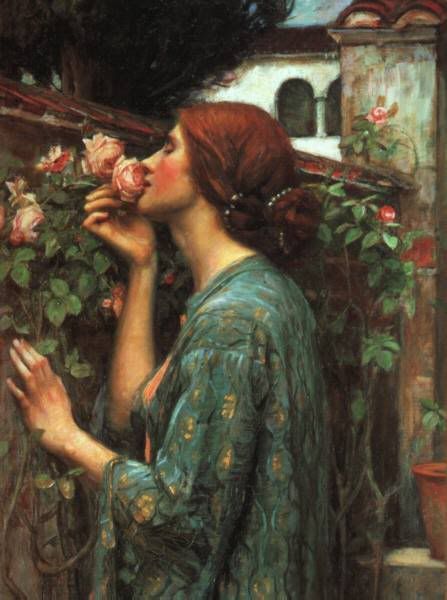 The term Pre-Raphaelite is thrown around pretty loosely on this website. I liberally refer to Edward Burne-Jones and John William Waterhouse as Pre-Raphaelite artists, although I know perfectly well that they were not "officially" members of the brotherhood. For example, while many (including myself) would recognize Edward Burne Jones as a Pre-Raphaelite, his only connection to the movement was through Dante Gabriel Rossetti, and he was never a member of the original Brotherhood (neither, of course, was William Morris)(Barringer, 14).

This got me to thinking. What makes art Pre-Raphaelite? Why do I tend to associate some artists with the Pre-Raphaelite movement, and not others? In my own mind, Pre-Raphaelite art is closely connected to its 19th century British context, and so I tend to look for those qualities in any bit of fashion or art that I label "Pre-Raphaelite." I also think a certain dedication to accurate representation of life (realism) is another important defining characteristic of Pre-Raphalitism, though close examination of the art of the original Pre-Raphaelites' reveals that they wasn't always as keen on portraying "reality" as they were in finding beauty (this is particularly true of Rossetti, of course).

Pre-Raphaelites also had a very particular idea of beauty and nature that I think is common to most of the works I would consider "Pre-Raphaelite." I suppose most people would call this romanticism. The Pre-Raphaelite aesthetic values nature (or rather, an idealised form of nature), and generally opposes industrialisation and modernisation as encroachment onto nature's turf. This is particularly evident in William Morris' work and writing, but it can also be found in Rossetti's idealisation of untamed feminine beauty and Ruskin's fondness for the unspoilt landscapes of England and Scotland.

Finally, I would have to say historicism is probably the defining characteristic of Pre-Raphaelite art, and it connects closely to all the other attributes I've mentioned. It was certainly important to the original PRB--they even went so far as to name their movement "Pre-Raphaelite" in honour of a supposedly superior distant artistic past! And while it may seem quaint to modern viewers to see the obviously anachronistic characters that fill Pre-Raphaelite art, the Pre-Raphaelites felt that they were celebrating a mythical, mystical golden age.

What is Pre-Raphaelitism to you? I'd love to hear your thoughts.


Source consulted: Tim Barringer. The Pre-Raphaelites. London: Everyman Art Library, 1998.
Image: "The Soul of the Rose" John William Waterhouse, 1908. "And the soul of the rose went into my blood"(from Tennyson's 'Maud').