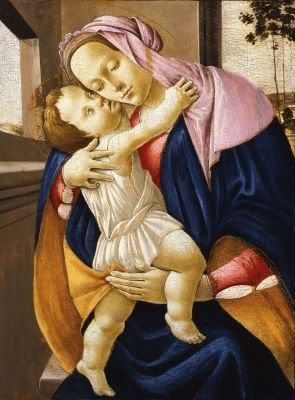 John Ruskin was actually one of the first people associated with the Pre-Raphaelites to have rediscovered Botticelli, but the reason it isn't written about much is that Ruskin's initial reaction to Botticelli was tepid at best. After hearing about Botticelli from some friends in the aesthetic movement, Ruskin had his assistant Fairfax Murray purchase Botticelli's Virgin and Child for a mere 300 pounds in 1877 (can you even imagine having an original Botticelli for a mere 600 dollars? Even in 1870s dollars, that was a tremendous bargain), but when the painting arrived, Ruskin wrote Murray that the Bottecelli was "so ugly that I've dared not show it to a human soul. Your buying such an ugly thing has shaken my very trust in you"(145).

Ruskin was so disgusted with Murray's purchase that he left the painting out of his writings entirely. Nevertheless, Ruskin renewed his interested in Botticelli later in life, when his friend Edward Burne-Jones became a fan. In 1872 Ruskin travelled to Rome to examine Bottecelli's frescoes at the Sistine Chapel up close, and returned two years later to study them again. As time went by, he slowly began to see Botticelli as an important figure representing the continuity between the Greek and Christian traditions. I wonder if he ever warmed up to the Bottecelli he had in his own private collection? (The painting is now held by the Ashmolean Museum, Oxford).

Robert Hewison. Ruskin, Turner and the Pre-Raphaelites. London: Tate Gallery Publishing, 2000.