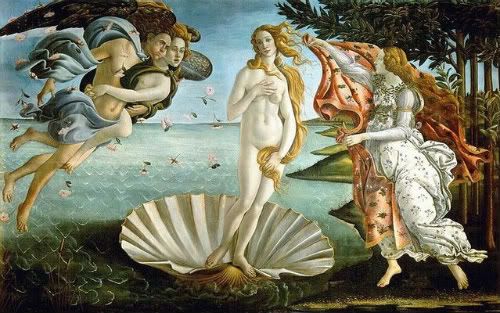 First of all, I would like to thank Stephen, from A World Away, for suggesting that I do a post or two on Botticelli! Sandro Botticelli's paintings are some of the most iconic and evocative works in Western art, and I'm actually quite surprised that this is the first time I've written about them! For the next few days, I will be focusing on the work of Botticelli and its relationship to the Pre-Raphaelite movement. I'll begin today by examining Botticelli's The Birth of Venus. It's one of those images that is so much a part of the Western psyche that it now truly deserves to be considered iconic, although this was not always the case, as we shall see.

There are actually a number of myths that explain Venus' origin, but Botticelli chose one of the earliest (and also the most violent and bloody) as the inspiration for his painting. According to Greek mythology, after Uranus was castrated by his son, Cronus, his severed genitals fell into the water and somehow fertilized it. Venus/Aphrodite later emerges from the water, having been conceived via the ocean's fertile waves. This rather far-flung story inspired Botticelli to create his most famous work, The Birth of Venus.

The painting itself was composed around 1482 for a member of the Medici family--Lorenzo di Pierfrancesco de' Medici--and was hung at Lorenzo's Villa di Castello. Interestingly, the painting was done in tempera on canvas, rather than wood (at the time Botticelli painted the Venus, it was common for artists to compose important works on wood, as it was considered more durable). Part of the reason that the painting might have been done on canvas was that it featured a decidedly pagan theme.

The work features a stylised, distinctively European Venus emerging from the water on a seashell (shells themselves were an erotic symbol for the Romans, probably because shellfish had long been viewed as aphrodisiacs. Casanova, another famous Italian, reportedly used to eat 50 of them every morning for breakfast). The shell is being blown towards the shore by the Zephyrs (a zephyr is a gentle wind, associated with spring). In the right foreground is the goddess Horae, the goddess of the seasons, who is preparing to cover Venus in a flowered cape. In this painting, Botticelli presents an image of Venus that is at once the embodiment of femininity and sensuality, who affects modesty at the same time. This paradox was what would later fascinate the Pre-Raphaelites, who were interested in creating a synthesis between the pagan and christian traditions.

Thursday I will be looking at the surprising connections between Botticelli and the Pre-Raphaelites.


Image courtesy wikimedia.
Source Consulted: Michael Levey. "Botticelli and Nineteenth-Century England." Journal of the Warburg and Courtauld Institutes, Vol. 23, No. 3/4 (Jul. - Dec., 1960), pp. 291-306.