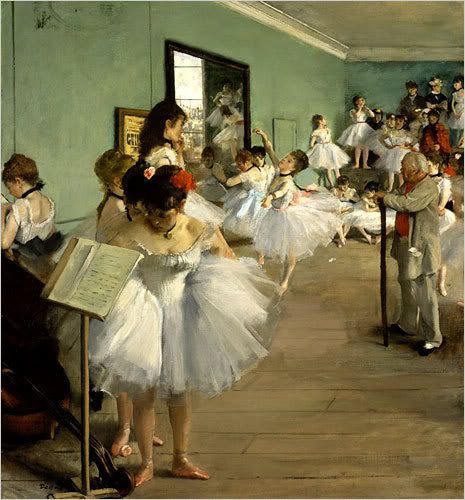 The Arts section of the New York Times is always a great read. A few days ago they had an article entitled "Degas' Ballet Students Teach the Lesson of Their Art", that takes a closer look at the actual ballet technique of the students in Degas' paintings. At the Met, Degas' work takes fills up two rooms (one room of paintings, one of sculpture) and his work is found in four additional rooms as well. Five of the six rooms include works developed around the theme of ballet.



Showing the world of ballet with new kinds of truthfulness, they helped to make his fame during his lifetime. They have never lost their renown, and some grow only more complex with analysis. The relatively simple statuettes, about which Degas liked to speak as if they were not serious, repay multiple viewings. He shows ballet as a world of both idealism and facts. "
Nevertheless,
"it remains astonishing how few of his dancers are actually dancing. The rest are stretching, adjusting ribbons and costumes, waiting in the wings, resting, gossiping or watching what performing there is."
And when the dancers are actually engaged in ballet, they often exhibit questionable technique. Or, perhaps, technique that was acceptable in Degas' day, but is frowned upon in modern times.
I love the way the author closes the article. The Rosencrantz and Guildenstern Are Dead reference won me over--I just love that movie:
"In these paintings Degas takes a "Rosencrantz and Guildenstern Are Dead" view of ballet, seeing it askew, from a distance, at an angle from which it was never intended to be viewed. He probably changed the specifics of any ballet room he visited to fit his idea. The result, paradoxically, is that he gives us a vision we believe wholeheartedly, a truth in which he addresses many layers of being."