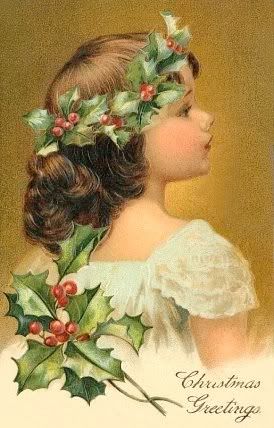 As Christmas approaches, it's sometimes interesting to contemplate the role of ancient traditions in our modern celebrations. Looking around today, I noticed a number of bloggers were writing to protest either Solstice or Christmas depending on their religious/philisophical persuasions. For my part, I see nothing contradictoray at all in celebrating both at once.

Most of us are aware that Christmas falls very close to midwinter solstice (Kwanzaa and Hannukah aren't that far off either). The date for Christmas was set by Rome in the third century AD in order to coincide with (and hopefully to supersede) the pagan festivals devoted to Saturn (King, 134).

Many of our modern celebrations of the holiday are clearly derived from Roman customs surrounding the Saturnalia fire festival. At this time of the year, homes were bedecked with "evergreens, candles, and specially constructed lanterns"(King, 134). Gifts were given and were even giftwrapped in coloured cloth!(134) Special foods such as exotic fruits, nuts, sweet bread and "pastries pressed in the shape of stars" were eaten along with cider and mulled wine (134).

The midwinter celebrations of the Celts had more to do with sun-god. Yule log superstitions have existed for many years in Celtic society. Despite numerous claims, it is not known whether the Christmas tree phenomenon originated with the Druids. I'm always suspicious of claims regarding "the first Christmas tree"--whether Martin Luther or the druids are credited, and it seems safer to me to stick with Queen Victoria since she's the first person we can be sure about having an actual Christmas tree.

The burning of the Yule Log was connected to the sun-gods purifying abilities and bringing the wood inside was a metaphor for inviting the sun-gods blessing into the home (135). Interestingly, the word Yule is derived from the Middle English "yole" and is perhaps related to our modern English words "yolk" and "yellow"(King, 135), which would make sense, since the sun appears yellow to our eyes.

Holly and Ivy are still probably the plants we most associate with Christmas. In ancient times, they were connected to the worship of Saturnalia, whose "club was of holly wood" and whose "sacred bird, the gold-crested wren, nested in ivy" both plants were also associated with the druids(King, 136).

There are many theories as to why the Roman empire chose to celebrate Christmas at this time of year. Some staunch traditionalists argue that Christmas falls at the same time of the year as Christ's actual birth. Others believe the holiday was set to occur at yuletide as a means of distracting pagans from their former rituals and giving them something else to celebrate. There are even christians who argue that Christ's birth should NOT be celebrated at this time of the year, since it comes dangerously close to glorifying the pagan past...

Regardless of which party is correct, I think it is perfectly fitting that Christmas comes at this time of year. In the Northern Hemisphere, Solstice marks the point in the calendar when days grow longer and the nights become shorter. What more fitting point in the calendar to welcome the birth of the "Son of God" or "Light of Lights"? Alternately, if one is of the pagan persuasion, I should think Christmas must seem far more innocuous than, let's say, Easter, since it's a celebration of life and new birth (which fits quite well with many neopagan religions). I guess I'm just a little sad everyone can't just get along. It seems to me that everyone--Christians, Atheists, Pagans and people from all religions--could benefit greatly from a little celebration at this time of the year, no matter what they're celebrating.

Reference: King, John. The Celtic Druids' Year. Blandford: London, 1994.