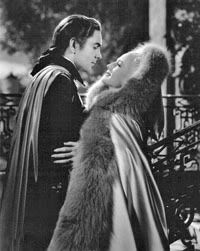 Well, I had a busy weekend! We went snowboarding again on Friday—I can tell I'm improving, but I still fell down a couple of times (ouch!).

I saw the greatest old movie today! I'm a huge classic film fan and I can't believe I've never seen the 1938 version of Marie Antoinette, starring Norma Shearer and Tyrone Power. Although it has its moments of melodrama (it is an old movie, after all) I actually preferred it by far to the new Kirsten Dunst version. I particularly enjoyed Robert Morley's portrayal of Louis XVI and John Barrymore as the dying Louis XV I'm a sucker for the black and white costume films that MGM produced in the 1930s—they are simply luscious! The costumes are not terribly historically accurate—but they are a great example of the glamorous costume design that makes classic movies such a joy to watch.



As a historian, I readily acknowledge that there are gaping historical "holes" in every film adaptation of Marie Antoinette's life, but this one is charming and unpretentious (the fictitious love story between Marie Antoinette's character and Tyrone Power adds some spice). Although it touches on her girlhood, it examines Marie Antoinette's later life in more detail than the sprawling 2006 version. Much like the newer film adaptation, the tale is generous in its portrayal of the queen and the French people are generally depicted as a crazed and unruly mob.

In closing, I must confess to a certain fondness for stories about the French revolution. Most of what I've read and seen tends to portray the revolution in a highly unflattering light (I think every one of the authors wrote with a copy of Edmund Burke's Reflections of the Revolution in France in one hand). I suppose writers saw the French Revolution as a good place to draw the line on revolutions (since the American revolution gets fairly positive press). The Scarlet Pimpernel was another of my favourite books growing up, and I adore the 1934 film version starring Leslie Howard and Merle Oberon (she is so incredibly elegant as Marguerite Blakeny!). A Tale of Two Cities is, of course, another must read/see. Again, the 1935 version is, in my view, the best, (Ronald Coleman's rendition of "Tis a far far better thing" speech is classic).