Today I thought I'd share a bit about John Duncan. While Duncan does not have a great deal of name recognition, I'm sure most of you will recognize his painting of Tristan and Isolde, which is probably his best known work.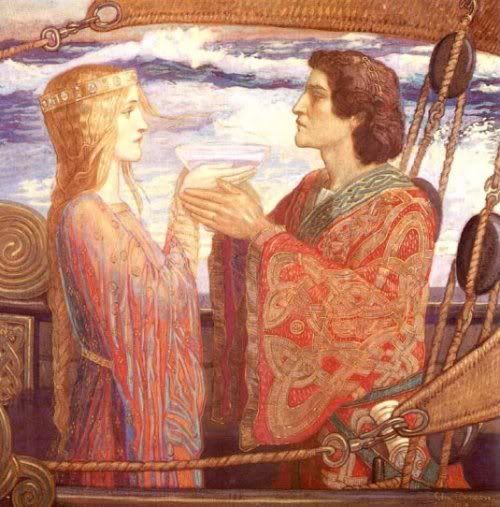 Most of John Duncan's works show a strong Pre-Raphaelite influence, and he was extremely fond of painting Celtic subjects. Duncan (1866-1945) was born in Dundee, Scotland. The son of a cattle dealer, Duncan displayed talent for art very early and was enrolled at the Dundee School of Art at just eleven years of age. He spent much of his early adulthood traveling through Europe and studying the works of great artists, including Michelangelo, whose influence can be seen in his paintings.

Like many of our dear artist friends, Duncan seems to have led a rather unconventional, romantic and tragic existence. He was well known for claiming to hear "fairy music" while he painted--though what, exactly, he meant by this is not entirely known.

What we do know is that he fell desperately in love with a young girl who claimed to have fished the Holy Grail out of a well in Glastonbury. In spite of the heady romanticism of it all, their marriage ended tragically when Duncan's wife left him and took their daughters with her to South Africa.

It's a shame that Duncan seems best remembered for these two odd anecdotes. He produced a number of beautiful paintings that are still respected today (I will be posting some more tomorrow). In his own day, Duncan was well known for his writing on art, and was especially recognized for his work concerning children's art education. He also was a regular contributor to Patrick Gedde's influential magazine, The Evergreen. I would love to do more research on Duncan, but I've had some difficulty, as it appears that few books have been written about him. If anyone has come across a biography, let me know! Perhaps I'll have to be the first to write one!