Flipping through the pages of magazines like House and Garden and Architectural Diegest, I'm always disappointed at the showiness and general disposability of most home decor. If you watch decorators on the House and Garden network, it always seems people use a designer to help them apply the latest trends in decorating to their homes. Then twenty years later (often less), their homes are outdated and again require the services of an interior decorator. The whole process seems to me to be incredibly wasteful, and it's made me rather hesitant to encourage the idea of using an designer.

Well, I am happy to report that not all designers are there to encourage you to buy into flash-in-the-pan decorating trends!


Yesterday I heard about this wonderful site from a highschool friend. Wren and Willow Interior Decorating and Design is a small interior design firm inspired by the William Morris maxim "Have nothing in your houses you do not know to be useful, or believe to be beautiful." The company's design projects have a decidedly Arts and Crafts flair, and promise to complement your home's architecture while "bringing the beauty of nature inside the home" to "create a warm and inviting atmosphere."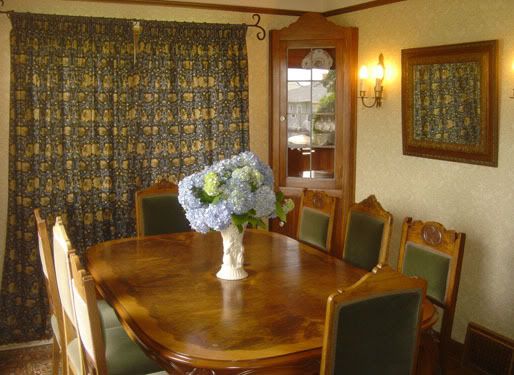 I must say, I'm blown away by the use of these beautiful William Morris wallpapers and textiles. I particularly love the living room, where they're using "willow" wallpaper, "honeysuckle" curtains and the lion above the fireplace is of course from William Morris' Forest Tapestry. The tiling around the fireplace is also lovely. What a beautiful retreat! And the beautiful decor in these homes is timeless. If you love something, why not keep it forever?