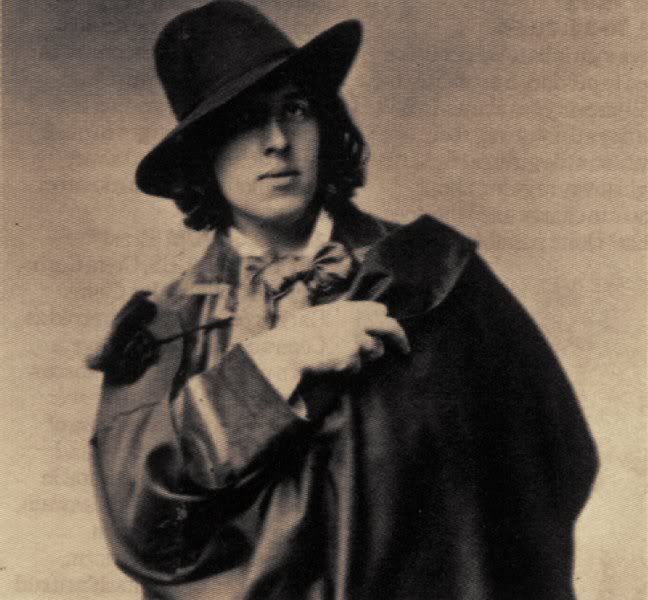 I've been an Oscar Wilde fan for as long as I can remember. I instantly fell in love with his flippant, irreverent humour. His quotable quotes are everywhere--I particularly love this one: "work is the curse of the drinking classes." So outrageous! How can you not love him?

In addition to his witty sayings and flamboyant excesses, Oscar Wilde is also very well known for his involvement in the aesthetic movement (which partially explains his penchant for velvet kneebritches). But did you know that Oscar Wilde was also a huge fan of John Ruskin?

Ruskin (then Slade Professor of Fine Art at Oxford) was one of the two people that Wilde most wanted to meet when he went to Oxford. Wilde befriended Ruskin during his first year at school after going to Ruskin's lectures of Florentine Art in the fall of 1874. Soon Wilde was he even helped Ruskin to plant flowers while constructing a country road in North Hinksey outside of Oxford! For several months, Wilde got up early in the morning to wheel "Mr. Ruskin's especial wheelbarrow." I personally find it a little difficult to imagine Oscar Wilde pushing a wheelbarrow and digging ditches. He must have been truly eager to impress Ruskin! It paid off though...Ruskin invited the students who helped him with his project were invited to breakfast afterwards, and I'm sure Wilde took advantage of the opportunity to talk with Ruskin.

Ruskin's ideas left a lasting impression on Wilde, who rose to his defense in his work Intentions. His defense of Ruskin was later republished in the New York Times in 1891.


Who cares whether Mr. Ruskin's views on Turner are sound or not? What does it matter? That mighty and majestic prose of his so fervid and so fiery coloured in its noble eloquence, so rich in its symphonic music, so sure and certain, at its best in subtle choice of word and epithet, is at least as great a work of art as any of those sunsets that bleach or rot on their corrupted canvases in England's gallery; greater, indeed, one is apt to think at times, not merely because its equal beauty is more enduring, but on account of the fuller variety of its appeal, soul speaking to soul in those long-cadenced lines, not through form and colour alone, though through these, indeed, completely and without loss, but with intellectual and emotional utterance, with lofty passion and with loftier thought, with imaginative insight and with poetic aim; greater I think even as literature is the greater art.
Oh, Oscar.
sources consulted:
"Noted with Pleasure"
from the New York Times