My first day in Paris I went to the Cluny Museum. If you ever get a chance to go there, it's a must see! If you have any interest in medieval decorative arts, it is heaven. I was particularly impressed with their collection of pottery dating back to the 9th century, many of which were from Iran.

I was instantly struck by the similarities between the tiles in the Cluny and the work of William de Morgan during the late 19th century. I had learned a while ago that Morgan's work was inspired by Iznik (Turkish) and Persian ceramics, but this was the first time that I was able to see his inspiration up close. The similarities are striking!

I just love these two bowls. They are both from 9th century Iran and the colours and design work are just spectacular. I love the brilliant red that has been used in the first bowl. Pictures taken through glass are never very good, but hopefully you can still tell how bright the colours are.




I find the design on the blue bowl quite reminiscent of some of William Morris' artichoke interpretations. Does anyone else agree?




For comparison, this is one of William de Morgan's vases, which utilizes a bright red glaze whose formula was derived from analyzing fragments of medieval pottery from the Middle East.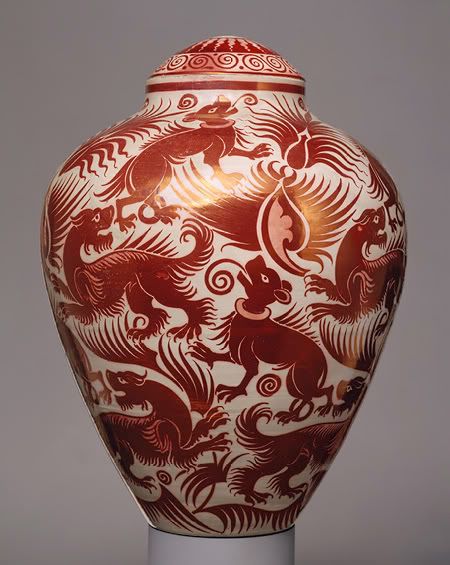 This tile from 9th century Iran uses a similar style and the bright colours are definitely reminiscent of de Morgan's work.