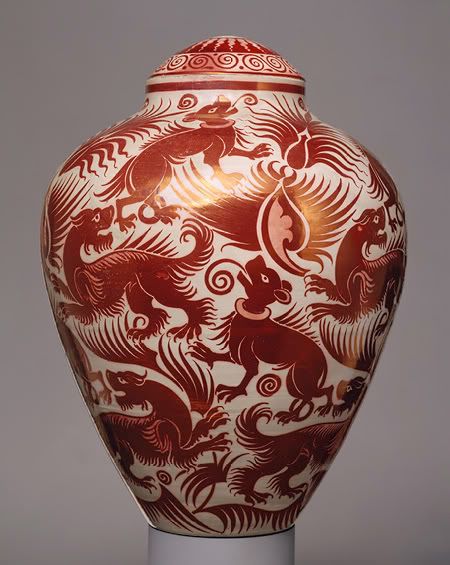 I ran across a picture of this lovely William de Morgan vase on the Metropolitan Museum of Art's website today. The simplicity of his designs is so graphic and modern that it actually reminds me of some of Picasso's ceramic work. Anyway, after doing a bit of browsing, I thought I'd do a small profile on William de Morgan and his contribution to the Arts and Crafts Movement (I've been neglecting ceramic artists so far).

Born in 1839, William de Morgan was a key figure in the Arts and Crafts Movement. He studied at the Royal Academy Schools, but left his studies after meeting William Morris. Shortly afterward, he left his studies to work for William Morris' firm of Morris, Marshall, Faulkner & Co. designing stained glass and painting furniture panels. Through his friendship with Morris, de Morgan came into contact with the Pre-Raphaelite Brotherhood and met his future wife, Evelyn Pickering (Evelyn de Morgan).

De Morgan became an innovator in ceramics after noticing that firing silver paint produced iridecense in stained-glass. De Morgan applied the technique to ceramics and created the now well-known luster glaze (which can be seen on the vase pictured above). De Morgan was especially inspred by Iznik (Turkey) and Persian ceramics, in addition to Italian maiolica and sixteenth-century Hispano-Moresque pottery.

In the 1870s, De Morgan began to focus more on creating decorative tiles. The best example of his work in tiles is perhaps found in his commission to copy Sir Frederic Leighton's collection of Persian tiles for the Arab Hall at Leighton House, London, in 1879. In 1882, he moved his studio to a workshop in Merton Abbey, where he produced and decorated hollowware and continued to experiment with luster glazes.

In 1887, Willilam de Morgan married leading female Pre-Raphaelite artist Evelyn Pickering, who is known today by her married name, Evelyn de Morgan (source: Wikipedia). William assisted his wife with her painting by developing a painting technique that used glycerine to produce bright, clear colours (source: Illusions Gallery).

Although William de Morgan is celebrated today for his contribution to the Arts and Crafts movement, his greateset commercial success during his own lifetime was as a writer, not an artist. The De Morgan Centre reports that although he only started writing when he was 65, his five bestsellers guaranteed a secure retirement for himself and his artist wife, Evelyn.

Like many of the artists of the Pre-Raphaelite movement, including of course his close friend William Morris, de Morgan was multi-talented. Not only was he an amazing ceramic artist and accomplished writer, de Morgan also designed and built his own pottery kilns and studio equipment and was an accomplished chemist (this is not suprising since it takes chemical knowledge in order to develop colouring for glazes). He even developed a new system of gears for bicycles and wrote the Admiralty during the World World War I to suggest how they might go about destroying U-Boats!

(photo courtesy of the Metropolitan Museum of Art website).