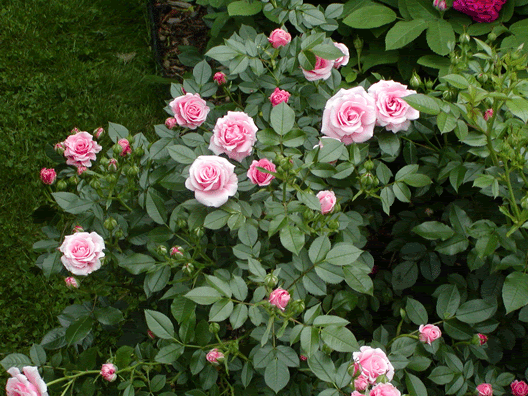 As Valentine's day approaches, I'm more and more drawn to the romance of roses. And it seems I'm not alone! There was an article in the paper yesterday that pointed out that in Saudi Arabia, the sale of red roses is forbidden at this time of year because red roses are associated with Valentine's day. This has led to a soaring black market in roses. Little wonder! Regardless of your religious persuasion, there is something irrisistable about roses.

Perfume is one of those things that it took me a while to appreciate. As a little girl, I remember watching my mother as she carefully chose her perfume as the final step of getting ready to go out. She wore perfume every day and it always matched the season and occassion perfectly. I loved looking at all the beautiful bottles arranged delicately on a mirror that sat on top of her dresser. She would let me try different scents out and I always loved deciding which one to sample next. She would always ask me if I wanted a perfume for Christmas, but I usually said no. I loved perfume, but it didn't seem important enough to choose as a Christmas present. Maybe it's because I could have all the perfume I wanted at home!

When I went to college, that's when my love affair with perfume started. I realized that I like a lot of older perfumes, especially Jean Patou's "Joy" and "1000." My friends thought it was hillarious that I had such a giant collection of perfumes, but they liked trying them too!

Since I've already revealed "Joy" and "1000" as two of my favourite scents, you've probably figured out that I'm a huge fan of rose-scented perfumes. My all-time favourtite, though is Nahéma. The first time I actually tried it was at the Guerlain Champs Elysees show room in Paris!(Every perfume lover should go there at least once!). It was my favourite scent that I tried that day and I fell in love. In addition to rose, it has notes of bergamot, mandarin, peach, cyclamen, lily, vanilla, sandalwood--and to me it's the ultimate rose perfume. The fragrance was created in 1979 and supposedly inspired by Catherine Deneuve. The name itself comes from "the daughter of fire", from Scheherezade's (of One Thousand and One Nights fame) tale of "two twin princesses, of equal beauty but of different nature." It's a sexy scent that will definitely make you feel like a "daughter of fire."

If you like rose scents, here are a few others you might try:

Bal A Versailles--my mother's signature scent, by Jean Desprez. Sadly, it's difficult to find these days, except in a cologne. Last time I talked to the people at Nordstrom they said there's been some kind of property dispute over the roses used to make it!

Rose Absolue, by Annick Goutal--this fragrance comes in a wide variety of forms which is important if you really fall in love with a scent! You will want to try soap, bath gel, etc. and the possibilities are endless with this particular one. Also, all the scent in Annick Goutal's fragrances is totally natural, which makes it blend so much better with your own chemistry.

Joy, by Jean Patou--a total classic and comes in body cream, lotion, perfume, bath gel and lots of other lovely products.

Stella McCartney--I really love this one! It's new but it has a delightful, strong rose scent. Try the deodorant. It sounds weird, but it's fabulous! I can't live without it!

L'Occitane also makes a really lovely and more affordable rose fragrance that smells quite a bit like Stella but is all natural. Their bath products are amazing and I highly recommend this one.