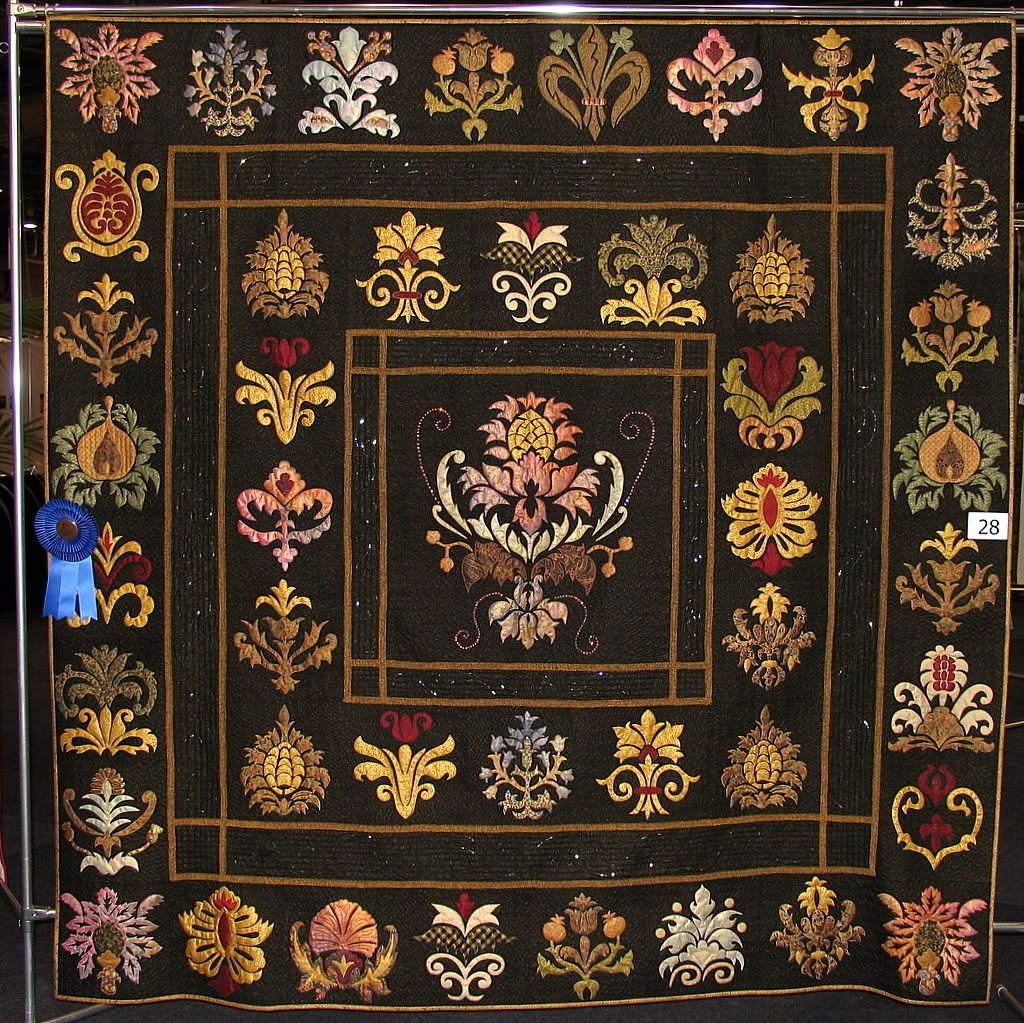 I know I was supposed to begin writing about Medieval influences on the Pre-Raphaelites, but I recently came across some beautiful artwork that deserves special attention.

I received an email from Michelle Hill on Sunday about her interest in William Morris' designs. After paying a quick visit to her website I realized she is an incredibly gifted artisan. She cites William Morris as a major inspiration for her work and her designs often feature interpretations of his designs.

Her quilts are simply incredible and their spectacular design speaks for itself. Generally speaking, I am not a fan of quilts. I appreciate the hard work and patience quilting requires, and I often see old quilts that I find interesting from a historical perspective, but I have never seen a quilt that I would really want to have in my home. Most quilts simply do not fit with my aesthetic.

This is no longer true. Michelle's quilts are absolutely lovely and I think they demonstrate decisively that quilts need not be country western-ish! Her designs are more evocative of fine tapestry than of the majority of quilts. She has even done a quilted interpretation of the famed "Lady and the Unicorn" Tapestry!
It never even occurred to me that you could create such beautiful art through quilting. Since I'm sure I can't afford to commission one of these lovely quilts, it appears I may actually have to learn how to do it myself!(Luckilly Michelle sells the patterns for her quilts). She has also created some smaller applique pillows based on Morris designs that would be good starter projects.

Michelle has won many awards throughout Australia for her quilts. Her entry for the "Festival of Quilts", called Renaissance (pictured above), won first place and "viewers choice" in the Professional Appliqué category of the Quilters Guild of SA Inc's "Festival of Quilts."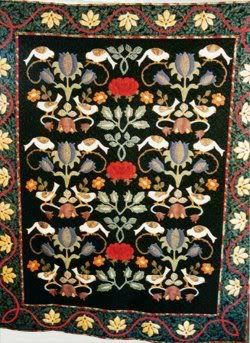 Inspiration for this quilt, called "Coffee with William Morris" came to Michelle over a cup of coffee in 2002. It includes elements of Morris' "Rose" and "Brompton" designs.

I hope you enjoyed these designs. Michelle has many other quilts on display at her website.
If you are interested in finding the patterns for these beautiful designs, they can be purchased through a number of fine retailers. For more info, please visit Michelle's website.