St. George's Cabinet, designed by Philip Webb and Decorated by William Morris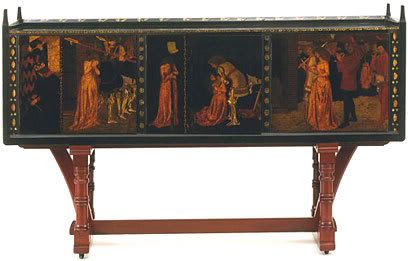 Over the past few weeks I've written quite a few articles on members of the Pre-Raphaelite movement and their work. It occured to me that, although I've mentioned Morris and Company numerous times, I still haven't done a profile of the Company.

Morris, Marshall, Faulkner & Co. (1861-1875) and its successor Morris & Co. (1875-1940) were furnishings and decorative arts manufacturers and retailers founded by designer William Morris. Morris began the venture upon completing the decoration of his home in Bexleyheath known as Red House. Morris had been disappointed to discover that it was nearly impossible to find simple, quality furniture and accessories for his home. As a result, he enlisted the help of his artist friends, Dante Gabriel Rossetti, Edward Burne-Jones and Philip Webb in designing his home's interior. When he was finished decorating, Morris got together with several of his friends, including Ford Madox Brown, Edward Burne-Jones, Charles Faulkner, Dante Gabriel Rossetti, P. P. Marshall, and Philip Webb, and in 1861 they established the firm of Morris, Marshall, Faulkner & Co., dedicated to providing simple handcrafted, medieval inspired designs for home interiors.

The firm set up shop at 8 Red Lion Square, London and was organized with a kiln in the basement, a showroom and offices on the first floor, and a workshop in the attic. The place had the air of a "medieval workshop" and the designs the firm prodcued were intended to "revive a sense of beauty in home life" and "to restore the dignity of art to ordinary household decoration"(Morris, as quoted in Todd, 9). The company was quite successful and wealthy patrons were drawn in by Morris' artistic vision and eccentric genius. Author Henry James was deeply impressed by the artistry of the Company's products, and said of Morris himself that "everything he has and does is superb and beautiful"(Todd, 10).

Morris was both a talented artist and a eager businessman and Morris, Marshall and Falkner experienced a fair amount of commercial success. The firm soon expanded to carry a number of different textile products, including tapestries, decorating fabrics, carpets and embroideries, combined with mural decorations, carvings, stained glass, metalwork, ceramics, furniture and light fixtures.

Morris was also not opposed to exhibiting the work of the company at the International Exhibition of 1862. The firms' exhibit was styled after a Medieval court, featureing a sofa designed by Dante Gabriel Rossetti along with six of Morris' own furniture designs, including the elaborate "St. George's Cabinet" designed by Philip Webb and decorated by Morris in Gilt and vignettes of St. George slaying the dragon (pictured top). Although Art Critics pounced on the Pre-Raphaelites immediately--one critic from The Building News scoffed that the pieces were "no more adapted to the wants of living men, than medieval armour would be to modern warfare, middle-aged cookery to civic feasts, or Norman oaths to an English lady's drawing room"(12). Despite such criticisms, the exhibition led to several lucrative commissions from the Church of England, St. James' Palace and the South Kensington Museum (today known as the Victoria and Albert Museum).

This Lovely Stained Glass Angel Was Designed by Edward Burne-Jones for the Salibury Cathedral in 1878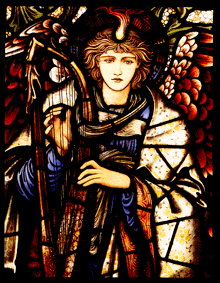 In 1875, the original company disbanded as many of the artists sought to pursue "solo careers" as artists. The company was reformed under Morris' sole guidance as Morris and Co. In 1881 the firm moved production to the Merton Abbey Workshops, which had previously been a silk-weaving factory and printing press on the River Wandle. Morris loved the new shop, which he jokingly referred to as "kindergarten for adults"(108). As the years went on, the popularity of Morris and Company's beautiful products only continued to grow. However, Morris himself was continuously troubled by the fact that his beatiful artwork was unattainable for most of the English people. His vision of affordable, beautiful furnishings remained a dream--only the wealthy could afford to buy his products because the lack of machine production necessitated higher prices. Throughout the history of the firm, Morris resisted introducing machinery, but this made his firm's work very expensive.

Morris and Co. was purchased by Arthur Sanderson of Sanderson and Co. in 1927. Sanderson purchased Morris' designs and continues to print Morris' fabrics and textiles to this day (they even make William Morris paint!). To see their products, visit their website. If you are interested in purchasing Morris and Co. designs, you can search their list of distributors.

Source: Pamela Todd. William Morris and the Arts and Crafts Home. Chronicle Books: San Francisco, 2005).

Cabinet image courtesy Victory and Albert MuseumStained Glass image courtesy William Morris Gallery

For tomorrow: a portrait of Liberty of London, the prestigious Regent street department store that popularized the work of the Arts and Crafts and Art Nouveau designers. Did Liberty do more harm than good by introducing these designs at lower prices and betraying Morris' vision of machine-free production?