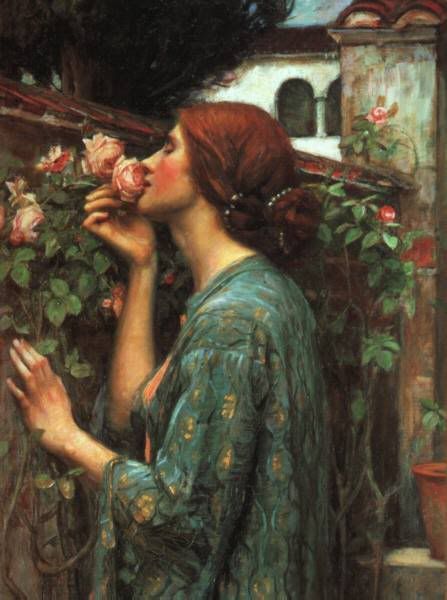 Members of the Pre-Raphaelite Brotherhood, together with many of the artists who took part in the Arts and Crafts movement, had what many today would consider a very simplistic notion of beauty. Their vision is shared today by many traditionalists who will argue emphatically that modern art is devoid of beauty because it is not made up of beautiful elements.

There were three main principles that guided the hands of the Pre-Raphaelite painters. 1. The earnest study of nature (because nature is beautiful). 2. Intensity of feeling (feelings are natural and thus beautiful). 3. Contempt for forumulas in painting (formulas are artificial, and thus ugly).

In keeping with these priciples, the Pre-Raphaelitse painted what they felt were beautiful subjects. For example, the ideas of poets like Chaucer, Dante and Shakespeare were presumed beautiful and thus worthy subjects for paintings. Women were likewise considered to be obviously beautiful, and were often painted in medieval costume (one has only to read a very little of William Morris' writings in order to learn why medieval costume was considered to so beautiful to members of the Arts and Crafts and Pre-Raphaelite movements). The combination of these beautiful ingredients was thought to lead to a beautiful work of art.

I certainly find Pre-Raphaelite art to be beautiful. In many ways it's a refuge from the ugliness that surrounds us. I've noticed over time that while I can appreciate the works of many modern artists, I tend to choose more traditional artwork for our home.

Have you ever seen the film, American Beauty? I have to admit that I loved it, but several professors of mine at University hated it because they saw it as an attack on traditional notions of beauty.

You will recall the scene in which Ricky and Jane watch recorded camcorder footage of plastic bag floating in the wind, which prompts Ricky to remark "sometimes there's just so much beauty in the world that I feel my heart is going to cave in." So--was it, in fact, beautiful? My professors argued that it was most emphatically NOT beautiful. Their logic was quite traditional, and I'm sure William Morris would have agreed with them: Is a plastic bag beautiful? Well, I suppose not. Is a dirty city street beautiful? Um, no. Is garbage floating in the wind beautiful? Definitely not.

John Keats once wrote "beauty is truth, truth beauty. That is all ye know on Earth and all ye need to know." If you take Keats at his word, this can cause some problems. Are pictures of Auschwitz beautiful? Most emphatically not, in my view. Nevertheless, his statement on art has become more or less the maxim for modern art. Most modern art today is concerned with pursuing the "truth" no matter how brutal or ugly it may be. So, while I respect Keats' writing and am a huge fan of his poetry, for the moment I think I'll except the dictionary definition of beauty as the "combination of qualities that make something pleasing and impressive to look at, listen to, touch, smell, or taste." If I accept that definition of beauty, then I think it's fair to say that the plastic bag floating in the wind doesn't exactly add up to a beautiful moment.

Is this beautiful?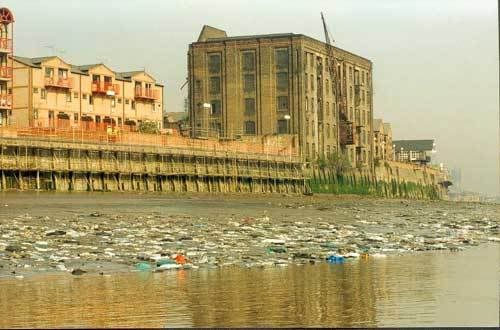 So, why does the plastic bag scene always bring tears to my eyes? Maybe the reason I cry during that scene is because I actually feel sorry for Ricky and Jane because that garbage floating in the street is as close as they can get to beauty. What do you think? Is the garbage beautiful? I would love to delve into this issue further in the future.