In 1871, William Morris and Dante Gabriel Rossetti signed a joint lease on Kelmscott Manor (not to be confused with Kelmscott House, Morris' home in Hammersmith), a Tudor farmhouse in the village of Kelmscott that had been built in 1571 of of local limestone. Kelmscott became Morris' country house, and is known today by those familiar with the stories of the Pre-Raphaelite circle as the place where Jane Morris and Dante Gabriel Rossetti spent their summers together at the height of their not-so-secret romance.

After signing the lease with Rossetti, Morris wrote his friend Georgiana Burne-Jones:"we have taken a little place deep down in the country...a beautiful and strangely naif house, Elizabethan in appearance...within a stone's throw of the baby Thames, in the most beautiful grey little hamlet called Kelmscott."

In keeping with his belief in preserving ancient buildings, Morris left the house as it was, though he had rotting floor-boards replaced. He and Jane invested a far greater portion of their time in redecorating the interior of the house. The house was filled with art objects from Morris and Company. Morris chose plain white, wool drapes for the drawing room and Jane also painted the walls white. Overall, the decor of the house is simple and elegant and blends seamlessly with the countryside.

Given the complicated nature of living arrangements at Kelmscott, Morris kept himself busy traveling to Iceland during the height of Jane and Rossetti's affair. He and his wife also kept seperate, beautifully decorated bedrooms. Rossetti painted this portrait of Jane, entitled "Water-Willow" after the Willows at Kelmscott, during their first summer together at the Manor, and it hangs in Jane's bedroom above an elaborate jewell casket given to her by Rossetti and Lizzie Siddal as a gift.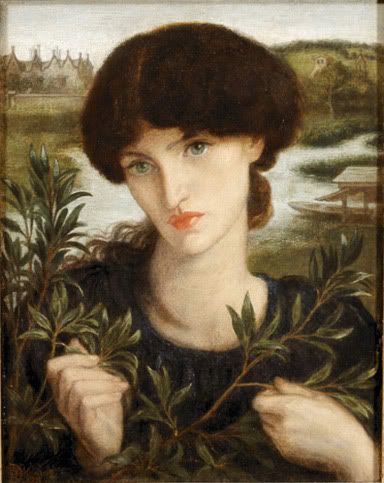 Morris' splendid seventeenth-century oak bed has also become quite famous for the way it was decorated by May and Jane Morris.

The poem "For the Bed at Kelmscott," by Morris is embroidered on the vallance.

The wind's on the wold and the night is a-cold,
And Thames runs chill twixt mead and hill,
But kind and dear is the old house here,
And my heart is warm midst winter's harm.
Rest then and rest, and think of the best
Twixt summer and spring when all birds sing
In the town of the tree, and ye lie in me
And scarce dare move lest earth and its love
Should fade away ere the full of the day.
I am old and have seen many things that have been,
Both grief and peace, and wane and increase.
No tale I tell of ill or well,
But this I say: night treadeth on day,
And for worst and best right good is rest.
If you are interested in visiting Kelmscott, be sure to check out their
website
!