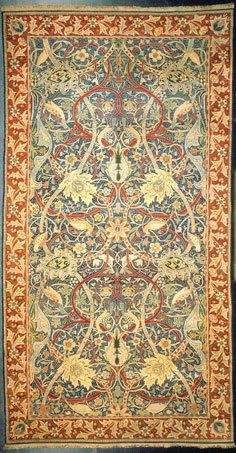 I hope everyone had a good weekend! I'm feeling a bit better today and I've had some down time to browse through one of my favourite books on William Morris before I have to return it to the library!

As you know, I love textiles. I'm particularly fascinated by carpets because they say so much about a home. I think it says a lot about changes in modern society that today we tend to fill our homes with nondescript beige carpets, whereas in the past carpets were works of art that could tell a lot about the owner.

William Morris began experimenting with carpets shortly after moving to Kelmscott House, Hammersmith in the 1870s. Today, Hammersmith carpets can be recognized immediately by the hammer and capital "M" found alongside the border (I couldn't find an image of this, unfortunately). Although originally designed at Hammersmith (hence, Hammersmith carpets), Moris moved the operation to Merton Abbey in 1881 so that he could take advantage of the larger looms available there. On nice days, Morris would take the carpets outside and spread them on the ground so that he could get a sense of what they looked like all together! (Todd, 50). The designs were exquisite, but extraordinarily expensive, like many of William Moriss' other accomplishments.

Of his carpet designs, the Bullerswood carpet is probably my favourite. The design is versatile and goes well with a variety of decorating schemes. It was made for John Sanderson, a wealthy wool merchant who had invited Morris and Co. to refinish his home. Some historians believe that Morris wove the carpet himself, since he had given specific instructions that nothing was to be put into the house that he had not made himself. Nevertheless, many today believe that Morris' talented assistant John Henry Dearle had a hand in creating the carpet, given the boldness of the design (Todd, 50). The carpet was coloured using only vegetable dyes. Interestingly, it's been very well preserved because it is so large that the Victoria and Albert Museum has not been able to have it on permanent display, which has helped preserve the colours from light damage.

images courtesy of Victoria and Albert Museum.

Source: Victoria and Albert Museum.
Also see Pamela Todd. William Morris and the Arts and Crafts Home. San Francisco: Chronicle Books, 2005.