In Greek mythology, the Sirens were depicted as creatures with the heads of women and the bodies of birds. The Sirens lived on an island and lured unwary sailors to their rocky shores with their songs (Virgil V, 846; Ovid XIV, 88). They feature prominently in the tale of Ulysses/Odysseus and also of the Argonauts (you will recall that it is Orpheus who saves the Argonauts from the sirens by playing his own tune, whereas Ulysses takes a more direct approach--plugging his sailors' ears and having himself tied to the mast).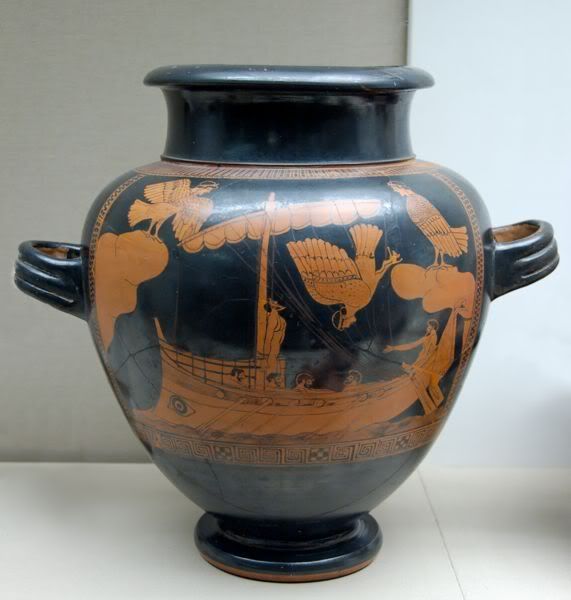 This red Attic vase from the British Museum (ca. 480-470 BC) is thought to have inspired John William Waterhouse's painting of Ulysses and the Sirens. There are a few differences, for example Waterhouse shows 6 Sirens in his painting, whereas this vase appears to only depict 3 (I have not seen the vase myself, so I'm not sure what's shown on the opposite side). But after examining the two pieces a little more closely, I think it's undeniable that Waterhouse used the vase as inspiration for his artwork.




You can tell from this close up that although Waterhouse has chosen to update the Sirens' hairstyles, he has copied their body shape directly from the vase. Likewise the form of the boat and the oars certainly evokes the style depicted on this piece of pottery. You'll also notice that they eyes that decorate the boat are common to both renditions.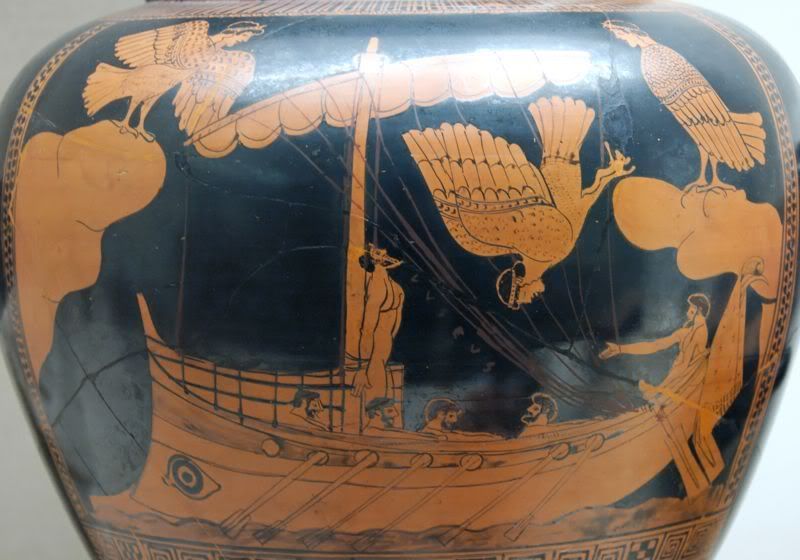 images courtesy wikimedia commons.