This lovely living room has been decorated using Sanderson's beautiful floral fabrics. If the designs seem familiar, it's because their patterns are copied or "adapted" by a number of other design firms. I suppose imitation is the sincerest form of flattery!




Sandersons is one of the oldest and best respected names in interior decorating. The company was established in 1860 as a firm specializing in interior design and decorating. Later, in 1923 Arthur Sanderson & Sons was awarded the Royal Warrant as Purveyors of Wallpapers to the King. In 1955 the company was again awarded the Royal Warrant to supply wallpapers, paints and fabrics to Queen Elizabeth II and the company continues to supply the Queen today.

Sanderson produces a wide variety of decorating materials, but they are best known for their floral wall papers and fabrics. Until recently, Sanderson had an exclusive copyright on William Morris' wallpaper and textile designs. In fact, Morris and Company's original designs were purchased by Sanderson some time ago and the Morris and Company website is actually a subsidiary of Sanderson's parent company, Walker Greenbank. The Morris and Company website is a great resource where you can find everything from decorating fabric to heritage paint colours.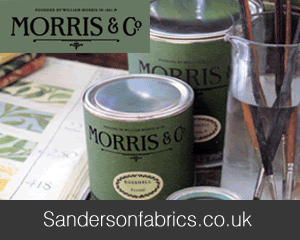 Today you can purchase William Morris' designs from other companies, but Sanderson's are still recognized as the best quality. Their fine fabrics are guaranteed to last for years.

images courtesy sanderson-uk.com