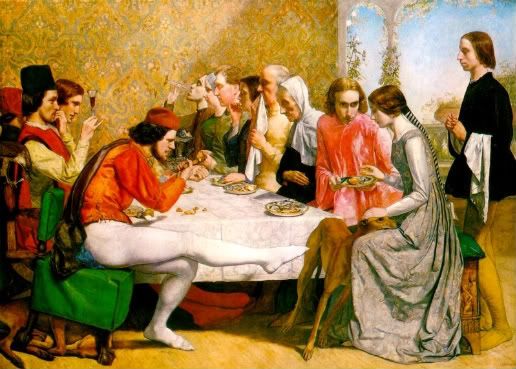 The first painting by Sir John Everett Millais to include the initials "P.R.B." was Lorenzo and Isabella, first exhibited at the Royal Academy in 1849 along with Holman Hunt's Rienzi. If you look closely, you will see the Pre-Raphaelite Brotherhood's distinctive monogram displayed on the leg of Isabella's stool.

The painting is based on Keat's poem "Isabella, or, the Pot of Basil." The poem tells the story of Isabella and Lorenzo falling in love. After their affair, her jealous brothers murder Lorenzo. When Isabella finds his body she removes his head, which she promptly deposits in a pot. She then sets to growing basil in the pot. It's a rather sordid and excessively dramatic tale, originally taken from Boccaccio. It's not that surprising that Keats chose this subject matter though--he was a mere 19 years old when he wrote the poem!

Lorenzo and Isabella is remarkably detailed and demonstrates the tremendous promise Millais showed as an artist (he was only 20 years old!). I am particularly fond of the faces in this painting, many of which were based on well known associates of the Brotherhood. Dante Gabriel Rossetti can be seen drinking on the right hand side of the table. His brother William Rossetti is Lorenzo (seen passing the fruit to Isabella). Millais' sister in law is posing as Isabella. The man whose face is visible on the back lefthand side is Walter Deverell. The man kicking the dog was actually John Harris, a man who had bullied Millais when he was in school!(Hawksley, 20).

Source consulted: Lucinda Hawksley, The Essential Pre-Raphaelites.
Image courtesy The Rossetti Archive.