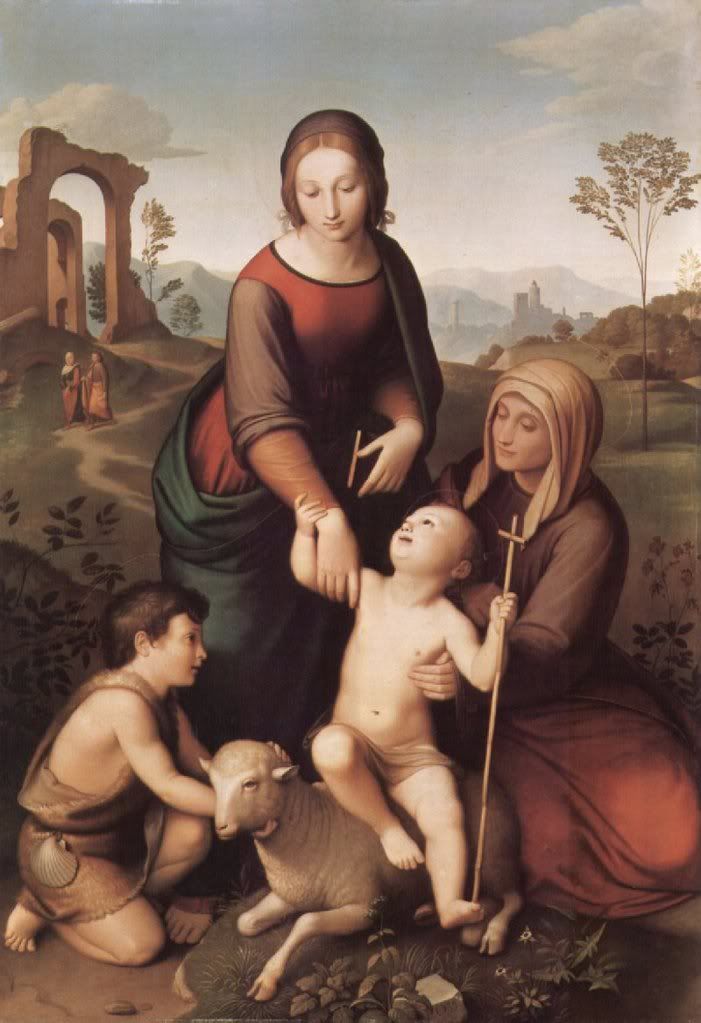 Thanks to a thought-provoking conversation over at Victoria magazine's forums, I once again ran across the subject of the Nazarenes in connection with the Pre-Raphaelite Brotherhood. I've read over and over again that Dante Gabriel was fascinated by the Nazarenes, but in the past I'd just overlooked it. This time I decided to delve a bit deeper into the relationship between the Pre-Raphaelites and this group of 19th century ascetic German painters.

Did you know that the Nazarenes were one of the key influences on the Pre-Raphaelite Brotherhood? And no, by Nazarenes I'm not referring to the modern day religious denomination! The Nazarenes I'm talking about were a group of 19th century German artists who joined together in 1809 to form the Brotherhood of St. Luke of Vienna. The founding members of the Brotherhood were Franz Pforr and Johann Friedrich Overbeck. They got the nickname "Nazarene" because of their long hair and ascetic convictions.

Although the Brotherhood began in Vienna, Franz and Johann traveled to Rome in 1810 to live and work at the abandoned convent of Sant'Isidoro del Pincio. After arriving in Rome, the artists began fervently proselytizing art was a divine mission, elevated to the level of true faith. The Brotherhood was especially influenced by Fra Angelico, Van Eyck, Albrecht Durer and--brace yourselves--the early works of Raphael (Raphael was clearly not as popular with the Nazarene's followers, the Pre-Raphaelites").

The key tenet of the Nazarenes' philosophy was that creating art, whether it be poetry or painting--was a divine calling. This was boldly demonstrated in Nazarene arist Phillip Veit's frescos in the Villa Massimo in Rome (1819), where he chose to include three of Italy's greatest poets, Dante, Ariosto, and Tasso, next to the saints and Church fathers.

The Brotherhood of St. Luke of Vienna worked hard to purify themselves of worldly cares, and dedicated their lives to a near-monastic existence. Their devotion to simplicity and sincerity of expression was later transcribed into the Pre-Raphaelites' own doctrine:


1. To have genuine ideas to express;
2. To study Nature attentively, so as to know how to express them;
3. To sympathise with what is direct and serious and heartfelt in previous art, to the exclusion of what is conventional and self-parodying and learned by rote;
4. And, most indispensable of all, to produce thoroughly good pictures and statues.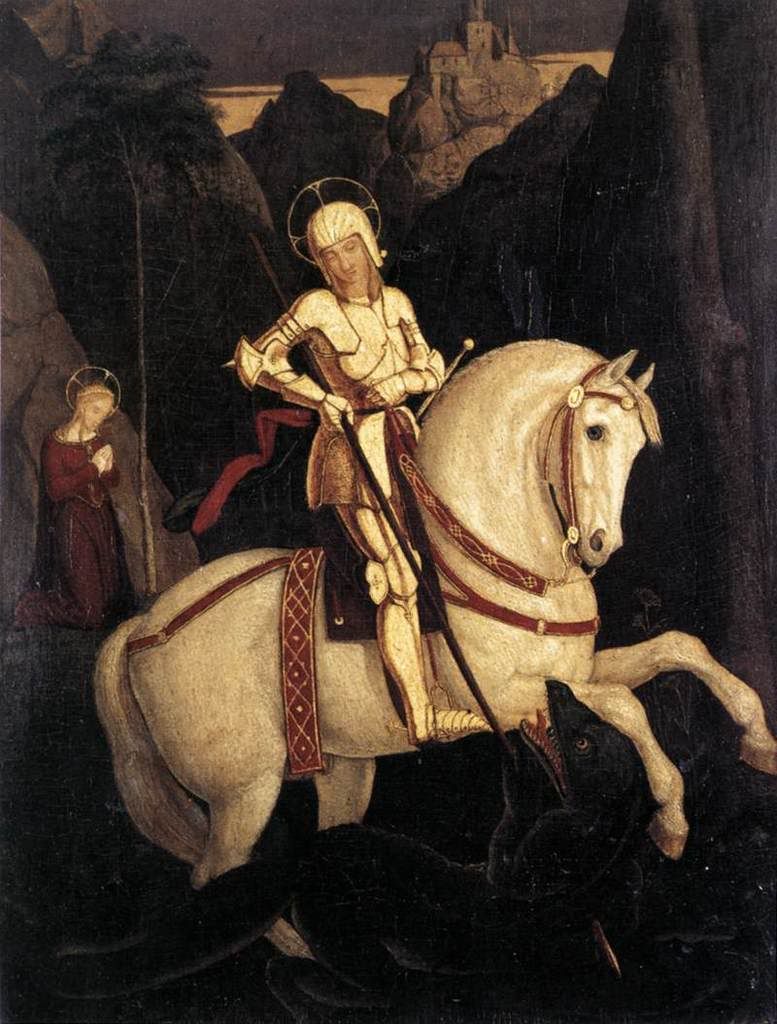 You can tell from this 1811 painting of St. George and the Dragon by Franz Pforr that, like the Pre-Raphaelites, the Nazarenes shared an interest in subjects from medieval myths and legends, although the Nazarenes were perhaps more slavishly devoted to medieval style. Even Dante Gabriel Rossetti, whose work is most imitative of the Nazarenes, was much more liberal in his use of colour.
Painting, top left: Friedrich Overbeck's Maria and Elizabeth, 1825
Works consulted: Arthistoryarchive--a great
art history website
with a lot of information on the Nazarenes.