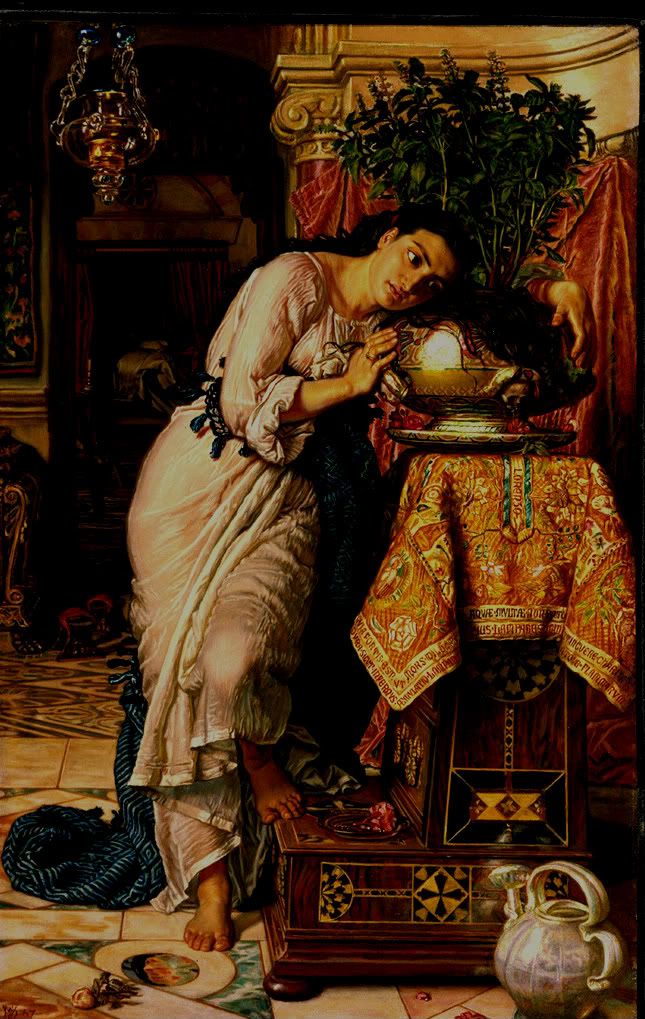 Like Sir John Everett Millais, William Holman Hunt also chose Keat's poem "Isabella, or, the Pot of Basil" as the subject for one of his paintings. Unlike Millais, whose Lorenzo and Isabella was based on the first part of Keats' poem, Hunt chose to illustrate a scene from the second half of the poem, which was inspired by the writings of Boccaccio.

By this point in the poem, Isabella has gone to the grave yard and unearthed the head of Lorenzo from its resting place. She wraps it in a silk scarf and puts it in a garden pot, as described in the 52nd-54th stanzas of the poem:

LII.

Then in a silken scarf,—sweet with the dews
Of precious flowers pluck'd in Araby,
And divine liquids come with odorous ooze
Through the cold serpent pipe refreshfully,—
She wrapp'd it up; and for its tomb did choose
A garden-pot, wherein she laid it by,
And cover'd it with mould, and o'er it set
Sweet Basil, which her tears kept ever wet.

LIII.

And she forgot the stars, the moon, and sun,
And she forgot the blue above the trees,
And she forgot the dells where waters run,
And she forgot the chilly autumn breeze;
She had no knowledge when the day was done,
And the new morn she saw not: but in peace
Hung over her sweet Basil evermore,
And moisten'd it with tears unto the core.

LIV

And so she ever fed it with thin tears,
Whence thick, and green, and beautiful it grew,
So that it smelt more balmy than its peers
Of Basil-tufts in Florence; for it drew
Nurture besides, and life, from human fears,
From the fast mouldering head there shut from view:
So that the jewel, safely casketed,
Came forth, and in perfumed leafits spread.


Hunt used his wife Fanny, who was eight months pregnant at the time, as his model for Isabella. Their son Cyril was born a month later in October of 1866, but Fanny had a difficult time recovering her strength after the birth. She died on the 20th of December. Fanny and Hunt had only been married for 11 short months.

The painting took on a new meaning after Fanny's death. Hunt worked feverishly on the canvas, which was over 6 feet tall (73.5 x 45.5 in or 187 x 116 cm)(Hawksley, 94). I love the way that Isabella's hair mingles with the soil in the pot--it's such a beautiful depiction of her grief and her longing to be joined again with Lorenzo. Hunt would have certainly had a more emotional connection to the subject after his wife's death.

Work Consulted: The Essential Pre-Raphaelites by Lucinda Hawksley, published by Dempsey Parr.