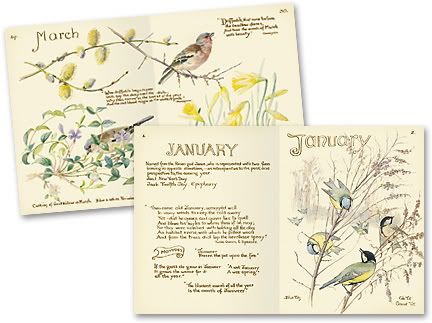 Early in the New Year I always try to surround myself with the work of great writers and diarists in order to hopefully inspire myself to create something beautiful. I am particularly drawn to the idea of keeping a nature journal. There's something so satisfying about being able to record the natural beauty that is all around us. And, as many of you creative bloggers out there know, there's nothing like the natural world to inspire creativity.


One work that continuously stands out from the rest is Edith Holden's
The Country Diary of an Edwardian Lady
.
It is one the most beautiful nature diary I have ever seen, filled with lovely drawings and watercolours of the wildlife she observed near her home in the village of Olton, Warwickshire in 1906. If you have ever thought of keeping a nature diary, then this is the perfect inspiration!
Holden begins each month by jotting down some of her favourite poems and quotations about the month or season. Throughout the month she writes about the local flora and fauna she observes in the countryside during that time of year. For example, on today's date in 1906 she wrote:
Today I saw a curious Oak-tree, growing in a field near
Elmdon Park. From a distance it looked as if half of the tree were dead and
the other half covered with glossy green leaves. On examination the main
trunk and two of the main branches proved to be of a species of oak
that has mossy acorn-cups and large, deeply serrated leaves;--leafless in
winter. Growing out of the crown of the trunk and forming fully half of
the tree was an evergreen or Cork Oak, in full foliage. The join in the
two trunks was scarcely perceptable (6).
On the page facing she includes a lovely illlustration of a "Moor Hen" (I've never really seen anything like it--it must be unique to Great Britain). The artwork is beautifully done, though not so far beyond my own artistic skill that I fill defeated before I even begin trying to follow in her footsteps. Holden's
The Country Diary of an Edwardian Lady
is an essential volume for nature lovers and history buffs alike. Plus, the 1977 facsimile edition is beautiful that will add a touch of loveliness to your bookshelf. In fact, the book was so popular when it was released for printing in 1977 (after being discovered in the bookshelves of an English country house) it triggered the release of a vast array of associated products, including stationary and even bath products! While the stationary is nice, perhaps you could take some inspiration from Edith Holden herself and purchase some nice watercolour paper and produce your own by drawing the local wildlife!
If you need a little help getting started, I recently ran across another fabulous book on how to create a nature journal, entitled
Keeping a Nature Journal: Discover A Whole New Way of Seeing the World Around You
. My Mom was actually assigned this book for a course she took on Environmental History at Evergreen State College. I am so jealous of the book! It contains really valuable information on how to draw from nature and is both informative and inspiring. If you need to brush up on your drawing skills, this great book contains lots of exercises that will have you wielding your paintbrush with much greater confidence!