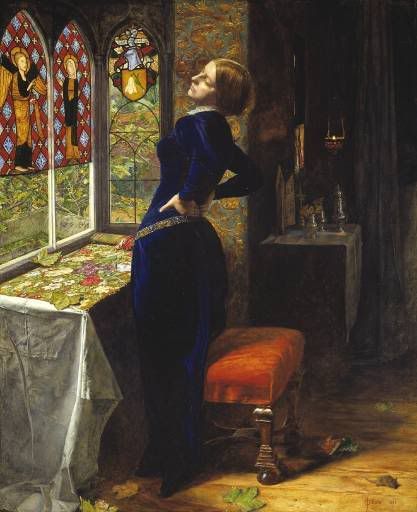 The Tate Museum is home to one of the largest collections of Pre-Raphaelite art in the world. Sadly, I live too far away from Great Britain to make regular visits, but I've discovered that it's possible to do a "virtual tour" of the Tate online. The Tate has one of the best online portals I've seen, with in-depth comments on various works of art. Currently the
Tate Britain
(which holds works by British artists from the 1500s to today) is offering an exhibition of the works of John Everett Millais.
The works that are a permanent part of the Tate collection are available for viewing through the website (many works that are NOT on display in the museum can be viewed online). While I am a huge believer in the benefits of seeing original artworks, the internet can be an amazing tool when it is not possible to see works in person.
I was particularly impressed with the museum's teacher's guide to the exhibition, which is available for download. It would be ideal for art teachers anywhere in the world. The pdf file includes extensive notes, artwork and activities (available
here
). Even if you're not a teacher, it's an excellent way to become more informed about Millais's work. It is so nice to see so much effort going into bringing art to life!
The museum also has a great store, though I imagine shipping costs must be pretty steep if you're ordering from North America.