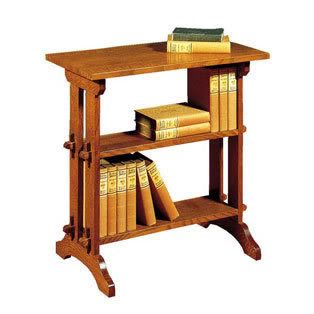 I was doing a bit of browsing this morning and ran aross the most amazing furniture company: Stickley. Stickley furniture has been in business for around 100 years and still continues to produce beautiful work.

The company begain in 1901, when Gustavus Stickley founded an Arts and Crafts journal called The Craftsman. The periodical expounded the ideals of the Arts and Crafts movement, but it had a uniquely American flair. In 1903, several years after starting the magazine, Stickley founded the Craftsman Home Builders Club, which was devoted to "organic architecture." Some of Stickley's primary architectural principles were that:



A house ought to be constructed in harmony with its landscape, with special attention paid to selecting local materials.
An open floor plan would encourage family interaction and eliminate unnecessary barriers.
Built-in bookcases and benches were practical and ensured that the house would not be completely reliant on furniture from outside.
Artificial light should be kept to a minimum, so large groupings of windows were necessary to bring in light (thank you Wikipedia!).
Gustavus Stickley's brothers, Leopold and John George Stickley followed their brother in the business of crafting Mission style furniture in the 1920s with the introduction of the popular "Cherry Valley Collection." Although Alfred Audi purchased the company in 1974, the Audi family has tried to remain true to the legacy of the Stickleys.

I strongly recommend a visit to the Stickley website. They have a really neat virtual room planner where you can create your ideal Arts and Crafts inspired space! Their Mission, Edinburgh, 21st Century(don't let the name fool you), Pasadena Bungalow and English Oak lines of furniture are all inspired by Arts and Crafts designs. They also sell beautiful handmade Persian rugs, including William Morris inspired Hammersmith designs! (I would contact them first before ordering them, though...I would want to know more about the labour conditions under which they're produced).

I'm sure most of their products are too expensive anyway, but it's certainly fun to look! The other nice thing about Stickley is that their products are sold all over the world (so much for local business, but it's hard to find good solid wood furniture in Canada, so I was really excited that they have a store that sells their products in Calgary--McArthur Furniture).

The piece I have pictured above is the "Roycraft Little Journeys Table" from the Mission collection and it comes in oak and cherry.